Details

In Redflow

/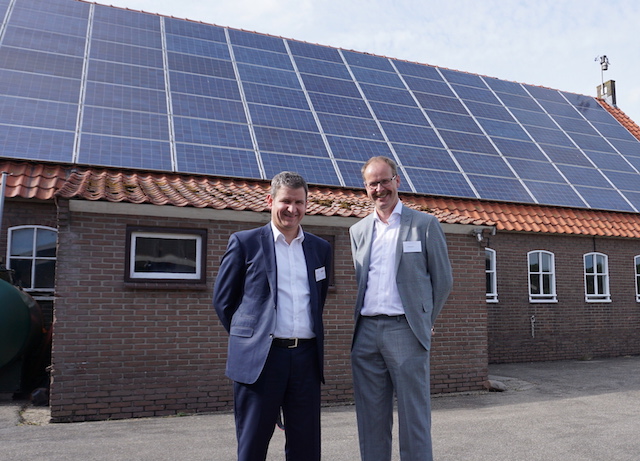 Andrew Kempster with Photon Farmer Jan BorgmanIn a Netherlands first, a Dutch dairy farm has deployed six Redflow ZBM2 zinc-bromine flow batteries to store self-produced solar energy that can support its milk production with sun-harvested energy.
Dubbed the Photon Farmer, the project aims to store solar energy for the farm's use with six 10 kilowatt hour (kWh) ZBM2 batteries, the first Redflow deployment in theNetherlands.
Located at Vierakker in the eastern Netherlands, the 57.5-hectare family-owned farm currently stocks 110 diary cows. Due to public importance, the European Union is co-financing the deployment, which could revolutionise energy supply by supporting businesses to become energy independent.
ICL, a leading global producer of bromine and supplier of the advanced zinc-bromide electrolyte used in ZBM2 batteries, proposed Redflow for the Photon Farmer project because of the ground-breaking advantages of zinc-bromine flow batteries over older battery types such as lithium and lead-acid.
Redflow Global Sales Director Andrew Kempster, who is visiting the Netherlands this week for the project's launch, said the Photon Farmer had produced energy with solar panels for several years. "The battery project is seeking the best business model for future local sustainable energy production, including energy storage in a battery," he said. "Our zinc-bromine flow battery technology is well-suited for this project."