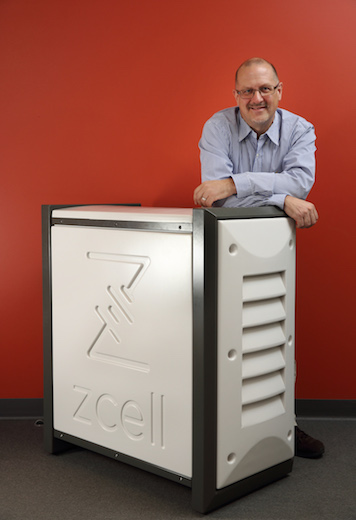 Simon HackettAustralian battery company Redflow Limited today announces the first approved installers for its new ZCell energy storage solution, with companies providing specialist local and national coverage.
After yesterday announcing the arrival in Australia of its first shipment of batteries for ZCell-based energy storage systems, ASX-listed Redflow has revealed the initial five companies approved to offer ZCell throughout Australia. Redflow has conducted installer training sessions for a number of additional companies, with further listings to be added at www.zcell.com as they are approved.
The first ZCell installers are Off-Grid Energy Australia (SA, VIC, ACT, NSW, TAS and southeast QLD.), Standard Solar (national), Suntrix (SA, VIC, NSW, QLD), The Solar Depot (SA, NSW) and WES Group (QLD, NT, WA).
Redflow CEO Simon Hackett said each company, which already had the in-house expertise and experience necessary to install energy storage systems, was now approved to install ZCell. "We expect to announce more installers in coming weeks," he said.
Redflow is an Australian company that in March launched its ZCell home energy storage system, a 10 kilowatt hour (kWh) flow battery that can 'timeshift' solar power from day to night, store off-peak power for peak demand periods and support off-grid systems. Installers determine the price charged for an energy storage system that uses a ZCell battery from Redflow.
Standard Solar is a 30-employee, Melbourne-based company that has installed energy storage systems for customers throughout Australia. "We've sold and installed all types of battery systems, including lead acid and lithium," said Standard Solar CTO James Graham. "Quite simply, Redflow has the best battery technology on the market at the moment. It's the product I want to use myself."
Suntrix is a solar and energy storage company that operates in South Australia, Melbourne, Sydney and Queensland, employing more than 20 people. "There's a lot of interest in residential energy storage, but we will only work with quality products that we're comfortable with, such as ZCell," said Suntrix co-founder and Managing Director Jenny Paradiso. "The benefits of ZCell include a long cycle life, a great recycling story and it's great that Redflow is an Australian company like us."
WES Group is a Sunshine Coast-based electrical and mechanical contracting company that's active throughout Queensland, the NT and north west WA. "ZCell is a great Australian product," said WES Group managing director Ian Grayson. "ZCell has natural advantages over lithium in terms of its recyclability and reusability, better depth of discharge and storage capability. The whole ZCell product offering is better than lithium - no doubt. I believe energy storage will be a long-term growth story, like solar PV, and it will also be a game changer for the major electricity suppliers, especially with the advent of aggregation."
Solar Depot employs 25 people in SA and northern NSW, "ZCell is a very compelling product," said Solar Depot founder Troy Ryan. "ZCell is innovative Australian technology with low maintenance and a long life that will integrate easily into our projects. ZCell's well-suited for grid-hybrid and larger standalone applications and also answers safety concerns that plenty of people have about lithium batteries. Redflow is a fantastic company to work with. It's refreshing to have a supplier with the advantage of a listed company and the passion of a small business in which the key people are active."
Off-Grid Energy Australia is an Adelaide-based company that has installed energy storage systems throughout southern and eastern Australia. "Redflow's zinc-bromine flow battery technology is a potential game-changer for energy storage," said Off-Grid's director and co-owner Hugh Driscoll. "Affordable and reliable energy storage has been the missing link in the renewable energy transformation. Australia is seen as the 'place to be' for battery storage manufacturers globally, with many international companies launching their new products here, so it's great to work with an innovative Australian company like Redflow in this pioneering area."
To contact ZCell installers, please visit http://www.zcell.com/endorsed_installers.php
For media assistance, call John Harris on +61 414 789 995 or email john@impress.com.au.
About Redflow www.redflow.com
Redflow Limited is an energy storage specialist that has developed the world's smallest flow batteries. Redflow's unique flow batteries are designed for stationary energy storage applications ranging from its ZCell home solution to its ZBM batteries for commercial, telecommunications and grid-scale deployment. Redflow is a publicly-listed company (ASX: RFX) that operates R&D facilities in Australia, as well as offices in the US and Europe. Produced in North America by Flex, one of the world's largest supply chain solution companies, Redflow's high energy density batteries are sold, installed and maintained by a global network of system integrators.