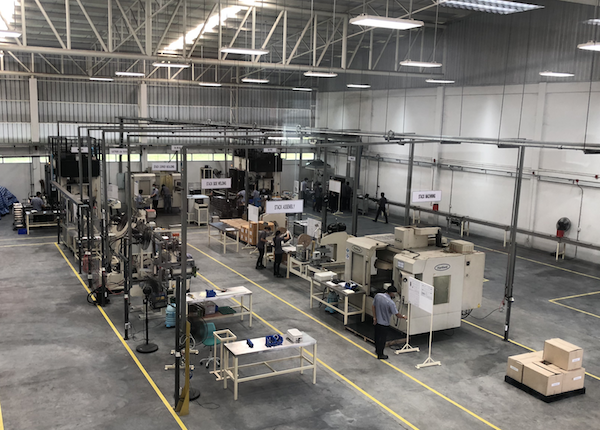 Redflow stack line at new factory in ThailandThe board of Australian battery company Redflow Limited has commended the successful commissioning of the company's new factory in Thailand after visiting the facility this month.
During the two-day inspection, Redflow directors saw factory staff fully assemble two ZBM2 zinc-bromine flow batteries which are now undergoing post-production acceptance testing.
Redflow Chairman Brett Johnson said the board had been pleased by progress at the factory. "We are impressed by the commitment of the on-site team to producing high-quality components," he said.
Redflow press at new factory n Thailand"While we were there, we saw the first two complete 'made in Thailand' batteries come off of the line. These are now undergoing quality and performance testing.
"The current production of battery stacks and this preliminary demonstration of full battery assembly means that we remain on track to commence production of complete batteries in Thailand by June.
"In the meantime, we will continue to assemble ZBM2 batteries in Brisbane using Thai-made battery stacks to satisfy customer backorders."
Redflow sprayline in Thailand
For media assistance, call John Harris on +61 8 8431 4000 or email john@impress.com.au.
About Redflow www.redflow.com
Redflow's unique zinc-bromine flow batteries are designed for stationary energy storage applications ranging from its ZCell residential battery to its scalable ZBM2 batteries for industrial, commercial, telecommunications and grid-scale deployment. Redflow Limited, a publicly-listed company (ASX: RFX), produces high energy density batteries that are sold, installed and maintained by an international network of system integrators. Redflow batteries offer unique advantages including 100 per cent depth of discharge, tolerance of ambient temperatures as hot as 50 degrees Celsius and sustained energy storage of 10 kilowatt-hours (kWh) throughout their operating life.
Related News
Redflow simplifies Large Scale Battery design

Simon Hackett in front of the redesigned LSB (Large Scale Battery) at Base64 in AdelaideAustralian battery company Redflow Limited (ASX:RFX) has simplified using its batteries in l...
Redflow powers up for battery battleground

Australian company Redflow is charged up to meet growing demand for robust long-life batteries that enable both homes and businesses to store electricity generated by their solar p...