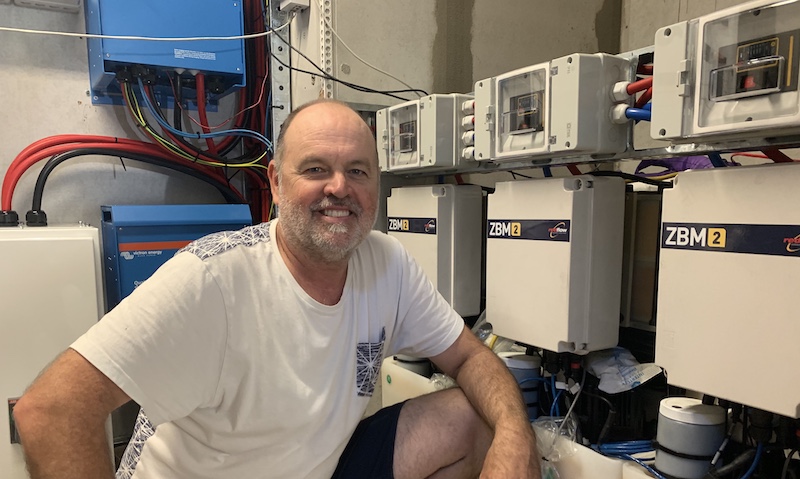 TIEC Services founder Leith ElsegoodWest Australians are increasingly seeking the benefits of new-generation batteries as the State's generous solar feed-in tariffs start to disappear, reports Redflow's new WA partner Leith Elsegood.
WA homes that installed solar systems a decade ago are already losing the 40-cents per kilowatt-hour (KWh) feed-in tariff, introduced by the State Government to encourage the installation of solar panels. The 10-year feed-in tariff will end in 2021.
Since 1989, Mr Elsegood's company, TIEC Services, has installed solar photovoltaic (PV) systems and energy storage systems throughout WA, at remote communities and, more recently, in high-end homes in the Perth metropolitan suburbs. TIEC Services recently signed up as installer of new-generation Redflow energy storage batteries for Perth and WA. Already, the company has won large, residential solar and energy storage contracts with Redflow's ZBM2 batteries.
"The Redflow battery is ideal for WA conditions, handling the dry heat and the great distances in remote regions," Mr Elsegood said.
"We have installed a lot of batteries over the years, especially in remote areas, but the problem with lead-acid batteries is the heat and their size. For 40 kWh of battery storage in lead, you need a cargo-size container. The newer lithium batteries create complexity, especially for a large system, and they lose their storage capacity over time, which makes them difficult to plan with.
"With Redflow's zinc-bromine flow batteries, you get a lot of kilowatts for the battery. They keep their storage over time. They handle the heat. They can work hard, charging and discharging consistently at three kilowatts (kW) and up to five kW, so it is straightforward to design a large storage system.
"I've had an eye on this zinc-bromine battery technology since the early days. Now I think the time is right for them. Everyone is starting to recognise that we were over-sold on the benefits of stand-alone solar as the great feed-in tariffs disappear over the next couple of years.
"At that point, people will see that their home solar is producing a lot of power but they're not getting paid much for it. Using Redflow batteries, we can design a system that has a lot more benefit for the homeowner during the evenings. We are getting a lot of interest in this at the moment."
Redflow National Sales Manager Tesh Solanki said TIEC Services provided proven experience for customers in Western Australia. "Leith gives us good coverage in Perth and WA in general," he said.
"TIEC is a successful business with a strong focus on sustainability, so Leith brings both passion and the proven expertise and capability to match it."
For more information about installing Redflow batteries in Perth and throughout WA, visit TIEC Services at http://www.tiec.com.au/.
Click here for the Redflow photo gallery to download high-resolution ZBM2 battery images. For other media assistance, including interviews, call John Harris on +61 8 8431 4000 or email john@impress.com.au.
About Redflow
Redflow Limited, a publicly-listed Australian company (ASX: RFX), produces small 10kWh zinc-bromine flow batteries that tolerate daily hard work in harsh conditions. Marketed as ZCell and ZBM2, Redflow batteries are designed for high cycle-rate, long time-base stationary energy storage applications in the residential, commercial & industrial and telecommunications sectors, and are scalable from a single battery installation through to grid-scale deployments. Redflow batteries are sold, installed and maintained by an international network of energy system integrators. Redflow's smart, self-protecting batteries offer unique advantages including secure remote management, 100 per cent daily depth of discharge, tolerance of high ambient temperatures, a simple recycling path, no propensity for thermal runaway and sustained energy delivery throughout their operating life.
Related News
Former Santos CEO joins Redflow board

New Redflow board member David KnoxAustralian energy storage specialist Redflow Limited has recruited former Santos Managing Director and CEO David Knox to its board of directors a...