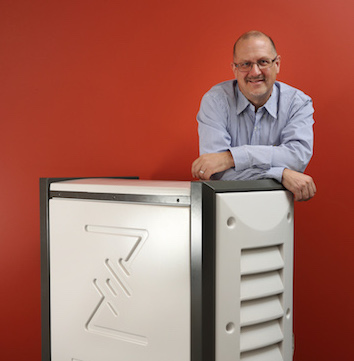 Australian energy storage specialist Redflow today announces its largest single sale of ZBM2 zinc-bromine flow batteries, worth about US$600,000 (A$800,000), for multiple sites in the Pacific Islands.
Redflow partner Vertiv (formerly Emerson Network Power) will provide the batteries for an energy storage solution being designed by New Zealand-based Hi-Tech Solutions.
Hi-Tech is building advanced hybrid energy storage systems to provide reliable, remote power to multiple sites in a Pacific Island nation. This first ZBM2 order from Hitech supports the first stage of a multiple stage project.
Redflow CEO Simon Hackett said this major sector sale recognised the unique advantages of its batteries. "This high-workload deployment in the tropics is ideal for our zinc-bromine flow batteries," he said.
"Redflow's ZBM2 is the world's smallest flow battery – uniquely qualifying it to replace lead-acid batteries in remote site deployments, such as telecommunication sites. The ZBM2 runs natively at 48 volts DC, making it simple to install. It is also easy to deploy in scalable parallel clusters for high availability, high scale deployments at the largest sites.
"The ZBM2 excels in hot environments, such as the tropics, for applications that require high cycle depth and cycle frequency, as in the deployment Hitech is planning. This sort of environment and application cycle kills lead-acid batteries in fairly short order, requiring their frequent replacement, whereas our batteries thrive on heat and hard work."
Auckland-based Hi-Tech Solutions http://www.hitechsolutions.co.nz/ specialises in providing telecommunications and infrastructure services for clients in New Zealand and internationally.
Hi-Tech Solutions Chief Operations Officer Derek Gaeth said the company had chosen Redflow batteries as the best fit for purpose in this specific use case. "Redflow's zinc-bromine flow batteries were our best choice because they meet the needs of this project," he said.
"ZBM2 batteries are well suited to managing hybrid power, have a good charge/discharge profile and have a high tolerance of temperature variance, especially heat, which is important in the tropics."
Vertiv https://www.vertivco.com/ is a mature Redflow system integrator that has previously deployed ZBM2 batteries for telco-related energy storage systems in New Zealand and Australia.
Vertiv Managing Director Australia/New Zealand Robert Linsdell said this order for Redflow's zinc-bromine flow batteries supported Vertiv's remote and black spot strategy for telecom. "Redflow is a smart Australian company that has developed a world-leading energy storage solution that we're happy to offer," he said. "Hitech is creating an environmentally sustainable solution that combines solar energy with the environmentally friendly ZBM2 battery."
For Redflow media assistance, call John Harris on +61 8 8431 4000 or email john@impress.com.au.
About Redflow www.redflow.com
Redflow's unique zinc-bromine flow batteries are designed for stationary energy storage applications ranging from its ZCell residential battery to its scalable ZBM2 batteries for industrial, commercial, telecommunications and grid-scale deployment. Redflow, a publicly-listed company (ASX: RFX), produces high energy density batteries that are sold, installed and maintained by an international network of system integrators. Redflow batteries offer unique advantages including 100 per cent depth of discharge, tolerance of ambient temperatures as hot as 50 degrees Celsius and sustained energy storage of 10 kilowatt-hours (kWh) throughout its operating life.