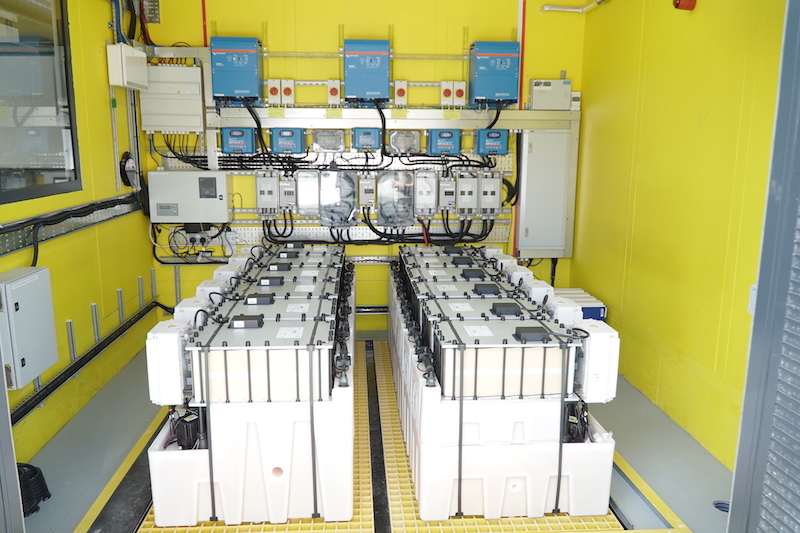 Swansea University, a research-led British university, has purchased Redflow's unique ZBM2 zinc-bromine flow battery technology as the energy storage backbone for its Active Building demonstrator -– an award-winning classroom that generates, stores and releases solar energy at the point of use.
The microgrid is built around 120 kWh of Redflow batteries and is supplied with building-integrated, thin-film photovoltaic solar panels, as well as a solar wall that supplies the warm air to a heat-pump for space and water heating. Since being built, the classroom has proven the Active Buildings concept by generating more energy than it has used over an annual cycle, and during high solar summer months, the system will return power to the local electricity grid.
Redflow's small 10 kWh flow battery units provided the only commercially available flow battery energy storage system that allowed accurate sizing for the 120 kWh system. Additionally, the Redflow battery operates "out of the box" with the Victron inverters and controllers that provide the power conversion for the Swansea University minigrid.
Tom Griffiths, Technology Transfer Fellow (Smart Systems), said Swansea selected the Redflow technology because of its ability to deliver 100% of the rated system energy every day, without degradation in capacity over a long – 10 year – life. "These characteristics were crucial considerations for us, and our application requires battery discharge duration of 4-8 hours depending on the time of year, making Redflow's flow battery the ideal fit for our requirements in comparison to more conventional lead-acid or lithium alternatives."
Redflow CEO & Managing Director Tim Harris said "Redflow is delighted that Swansea University selected our technology. This project with its dual renewable generation sources will be a bench-mark for flow-battery minigrids. This is an emerging segment that Redflow is focussed upon, having recently deployed some PV-only minigrids in the agricultural sector in Australia."
For media assistance, call John Harris on 08 8431 4000 or email john@impress.com.au.
About Swansea University: https://www.swansea.ac.uk/
Swansea University is a world-class, research-led, dual campus university offering a first class student experience and has one of the best employability rates of graduates in the UK. Swansea is ranked 30th in the UK in The Times and Sunday Times Good University Guide. As well as achieving its UK top 30 position, Swansea was named runner-up for the overall University of the Year Title in the Good University Guide, and was also crowned Welsh University of the Year for the second time in three years. Swansea climbed 14 places to 31st in the Guardian University Guide 2019, making us Wales' top ranked university, with one of the best success rates of graduates gaining employment in the UK and the same overall satisfaction level as the Number 1 ranked university.
About Redflow www.redflow.com
Redflow Limited, a publicly-listed Australian company (ASX: RFX), produces small 10kWh zinc-bromine flow batteries that tolerate daily hard work in harsh conditions. Marketed as ZCell and ZBM2, Redflow batteries are designed for deep cycling, long duration stationary energy storage applications in the commercial & industrial and telecommunications sectors, and are scalable from a single battery installation through to grid-scale deployments. Redflow batteries are sold, installed and maintained by an international network of energy system integrators. Redflow's smart, self-protecting batteries offer unique advantages including secure remote management, 100% daily depth of discharge, tolerance of high ambient temperatures, a simple recycling path, no propensity for thermal runaway and sustained energy delivery throughout their operating life.
Related News
Redflow charges into Asian telecom markets

Redflow Global Sales Director Andrew KempsterAustralian energy storage specialist Redflow Ltd is successfully selling its batteries in Asian countries where telecommunications...
Redflow expands into China

Redflow CEO Tim Harris Australian energy storage technology company Redflow Limited (ASX: RFX) is pleased to announce that it has signed a collaboration agreement with Chinese zin...