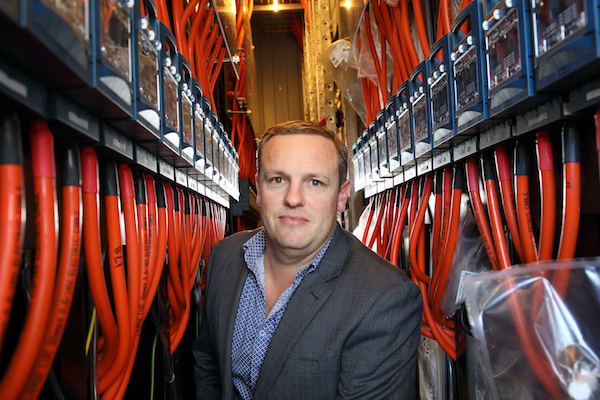 Hitech Solutions Chief Technology Officer Derek GaethAustralian energy storage company Redflow Limited has shipped zinc-bromine flow batteries made at its new factory in Thailand to fulfil its largest-ever order for use in a digital television network in Fiji.
New Zealand-based telecommunications infrastructure specialist Hitech Solutions last year chose Redflow's ZBM2 batteries to provide energy storage for Fiji's new digital television network which it is deploying for the Fiji Government throughout the Pacific nation, including remote islands.
Hitech Solutions ordered US$1.2 million worth of Redflow ZBM2 batteries to store and supply renewable energy to power the Fijian digital TV network. The company, which has operated a five-battery trial site in Fiji during the past year, intends to scale up its deployment of solar panels and Redflow batteries during the next six months. Hitech will install from five to 60 ZBM2 batteries at more than 10 sites in Fiji, many of which are on hills with no access to the country's electricity grid.
Unveiled in December last year, the digital TV network will provide Fijians, even in the most remote parts of the country, with access to eight free-to-air television channels through a set top box, plus an option for catch-up TV. Digital television will also provide a platform to telecast important messages to people in maritime zones and rural areas in times of disaster, such as cyclones.
Hitech Solutions selected Redflow's zinc-bromine flow batteries for the challenging project because of their robustness, long life, safety, temperature tolerance and straightforward recycling process. Hitech saved 40 tonnes of battery weight by choosing Redflow batteries over lead-acid batteries - the typical choice for telecommunication network energy storage.
Hitech Solutions Chief Technology Officer Derek Gaeth said Redflow batteries offered many benefits for the Fijian deployment. "The primary need was for a robust design with a long service life," he said.
"We considered both lithium and lead-acid based batteries, but many sites are in remote locations with difficult access. Lead-acid has too short a service life and is very bulky in the limited space we have. We save 40 tonnes of battery weight by choosing Redflow's zinc-bromine flow batteries.
"Lithium performance degrades over time and would struggle with the heat and our desire to run batteries without any cooling, even on days that are hotter than 30 degrees Celsius. Redflow batteries can use fresh unfiltered air for cooling, even where it is likely to have a high salt content, without experiencing corrosion and also present no fire risk through 'thermal runaway'.
"In addition, we believe there are still questions about the safe disposal and recycling of lithium batteries at their end of life, which could be a particular issue in the Pacific Islands where recycling costs can be very high. Redflow zinc-bromine flow batteries are made of components that are easily recycled or reused, which means this is not a problem.
"Redflow batteries come with a 10-year warranty - more than three times longer than lead-acid batteries - can withstand a fair amount of abuse and will operate in a harsh environment without special treatment. When required, they'll tolerate 100 per cent depth of discharge - that is, being completely run flat and left flat - without damaging the battery.
"A key benefit of Redflow batteries is their ability for sites to self-reboot from zero per cent state of charge and come back online when solar energy becomes available. ZBM2 batteries cannot be overcharged and can be charged and turned off for long periods of time with no self-discharge.
"Another advantage is the size of ZBM2 batteries - which weigh in at about 240 kilograms - because it is a deterrent to theft. Redflow offers tight integration with Victron inverter-chargers and Fronius photovoltaic solar inverters while its comprehensive Internet-enabled Battery Management System makes them easy to support remotely."
For media assistance, call John Harris on +61 414 789 995 or email john@impress.com.au.
About Redflow www.redflow.com
Redflow Limited, a publicly-listed Australian company (ASX: RFX), produces small 10kWh zinc-bromine flow batteries that tolerate daily hard work in harsh conditions. Marketed as ZCell and ZBM2, Redflow batteries are designed for high cycle-rate, long time-base stationary energy storage applications in the residential, commercial & industrial and telecommunications sectors, and are scalable from a single battery installation through to grid-scale deployments. Redflow batteries are sold, installed and maintained by an international network of energy system integrators. Redflow's smart, self-protecting batteries offer unique advantages including secure remote management, 100 per cent daily depth of discharge, tolerance of high ambient temperatures, a simple recycling path, no propensity for thermal runaway and sustained energy delivery throughout their operating life.
Related News
Mossel Bay goes carbon neutral with Redflow

Redflow Global Sales Director Andrew KempsterMossel Bay Municipality in the Southern Cape province of South Africa has eliminated the carbon footprint of its Technical Services Dep...
Redflow continues Board Renewal

John LindsayAustralian energy storage company Redflow Limited (ASX: RFX) is pleased to announce that it has today appointed technology expert and businessman John Lindsay to the bo...