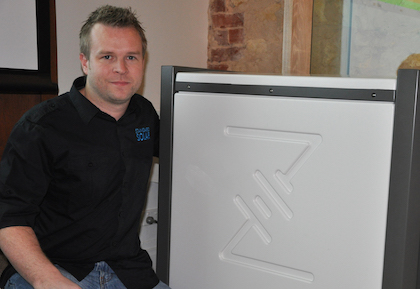 Australian battery company Redflow Limited has received a major order for 48 ZCell batteries, worth about $600,000, from Melbourne-based energy system installer Standard Solar.
Standard Solar, which supports clients nationally from its head office at Seaford, Victoria, was one of the first seven ZCell installation companies announced by Redflow last week. Redflow will start delivering the first batteries for this order during the next two weeks.
Now available in Australia,ZCell is a 10 kilowatt hour (kWh) zinc-bromine flow battery that can 'timeshift' solar power from day to night, store off-peak power for peak demand periods and support off-grid systems. Redflow received its first shipment of batteries for ZCell in Australia this month.
Standard Solar Chief Technology Officer James Graham said his company had already sold about half the ZCells from this initial order. "We have sold ZCells to customers ranging from a government agency and an educational institution to businesses and home users," he said.
"Most of these customers are driven by the desire to achieve greater energy independence, ranging from reducing their power costs to getting completely off the grid."
Standard Solar is a six-year-old company, with 30 employees and contractors, that delivers entire solar PV and energy storage systems for clients throughout Australia, both off-grid and on-grid.
James Graham said Standard Solar had received a huge amount of interest since it was announced as a ZCell installer. "We've been getting five to 10 phone calls an hour about ZCell," he said.
"About 70 per cent are from early adopters who know quite a lot about batteries while the other 30 know only a little about them, but are interested. We've had only one off-grid inquiry. Most callers are looking for hybrid upgrades or seeking an entire energy storage system with solar PV.
"A big attraction to ZCell is that when they buy this 10 kilowatt hour (kWh) battery, they can use 100 per cent of that stored energy. The customer sees this as offering great value-for-money."
Mr Graham said that about half the inquiries were coming from people living outside metropolitan areas. To meet this demand, Standard Solar is presenting ZCell at agricultural field days such as the October 3-5 Elmore Field Days, where it will display a ZCell enclosure and a naked battery.
Redflow Global Sales Director Andrew Kempster said the Standard Solar order demonstrated the strong interest in ZCell. "All our first installers report a lot of inquiries and a number of them have already placed their own orders," he said.
"This level of interest confirms Redflow's belief that there is a high level of unmet demand for energy storage systems in Australia, which we aim to help meet with ZCell."
To contact ZCell installers, please visit http://www.zcell.com/endorsed_installers.php
For media assistance, call John Harris on +61 414 789 995 or email john@impress.com.au.
About Redflow www.redflow.com
Redflow Limited is an energy storage specialist that has developed the world's smallest flow batteries. Redflow's unique flow batteries are designed for stationary energy storage applications ranging from its ZCell home solution to its ZBM batteries for commercial, telecommunications and grid-scale deployment. Redflow is a publicly-listed company (ASX: RFX) that operates R&D facilities in Australia, as well as offices in the US and Europe. Produced in North America by Flex, one of the world's largest supply chain solution companies, Redflow's high energy density batteries are sold, installed and maintained by a global network of system integrators.
About Standard Solar https://www.standardsolar.com.au/
Standard Solar is a Melbourne-based company that is committed to providing customers nationally with the smartest, highest-quality and most efficient solar power and energy storage systems.
Related News
Simon Hackett reveals home battery benefits

Simon Hackett with his Redflow home energy storage systemWhen 1.7 million South Australians lost power in late September, the family of Redflow CEO Simon Hackett in suburban Adelai...