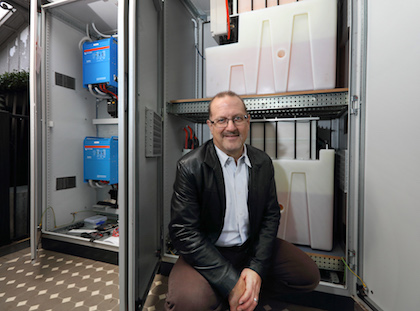 Simon Hackett with his Redflow home energy storage systemWhen 1.7 million South Australians lost power in late September, the family of Redflow CEO Simon Hackett in suburban Adelaide learned of the state-wide blackout only by reading of it on social media.
As the electricity grid shut down to protect itself during a fierce storm, two Redflow batteries at the Hackett house continued to operate, providing it with electricity, without missing a beat.
At last week's Redflow AGM, Mr Hackett said the two ZBM2 batteries had worked as intended. "They kept our lights on as the rest of the state was plunged into darkness," he said.
The Hackett home's Redflow energy system comprises two 10kWh Redflow ZBM2 zinc-bromine hybrid flow batteries, the Redflow ZCell Battery Management System (BMS), two 5000VA Victron Energy inverter/chargers, a 10 kilowatt peak (kWp) solar panel array in four strings using two SMA 5000-TL inverters and Victron Energy CCGX configured for solar self-consumption. View performance charts from the live system at https://vrm.victronenergy.com/site/share/a2040765.
Simon Hackett - an early adopter of home battery technology - earlier this year replaced two six-year-old lead-acid battery strings with the two ZBM2 batteries, which store energy using Redflow's unique zinc-bromine flow battery technology. As an early production deployment of Redflow batteries in a home, the system pre-dates the existence of the company's ZCell battery enclosures.
Mr Hackett said the system's performance had been very good since it was installed in April this year. "On a sunny week, most of our home's electricity is provided by solar energy, both directly and indirectly, by time-shifting stored energy," he said.
"Like a home rainwater tank saves water, this system acts as an electrical energy buffer, reducing the use of grid energy where possible and prioritising the use of battery energy first.
"Of course in weather conditions with less sunshine, we use more grid energy. The system automatically reverts to off-grid mode if the grid is unavailable, including recharging the batteries from solar energy to help support loads in the home for extended periods during such outages."
Mr Hackett provides a detailed description of his home battery installation and experience in a blog post at https://simonhackett.com/2016/11/28/home-redflow-zbm-installation/.
For media assistance, please call John Harris on +61 8 8431 4000 or email john@impress.com.au.
About Redflow www.redflow.com
Redflow Limited is an energy storage specialist that has developed the world's smallest flow batteries. Redflow's unique flow batteries are designed for stationary energy storage applications ranging from its ZCell home battery to its ZBM battery range for commercial, telecommunications and grid-scale deployment. Redflow is a publicly-listed company (ASX: RFX) that operates R&D facilities in Australia, as well as offices in the US and Europe. Produced in North America by Flex, one of the world's largest supply chain solution companies, Redflow's high energy density batteries are sold, installed and maintained by a global network of system integrators.
Related News
Redflow unveils battery lab in Adelaide

Australian battery manufacturer Redflow Ltd has established a battery laboratory in Adelaide to assist with its software development and to certify its zinc bromide flow batteries ...
Redflow to miners: Store energy to cut costs

Australian energy storage specialist Redflow has advised the country's beleaguered mining companies to deploy renewable energy with on-site power storage to cut energy costs ...