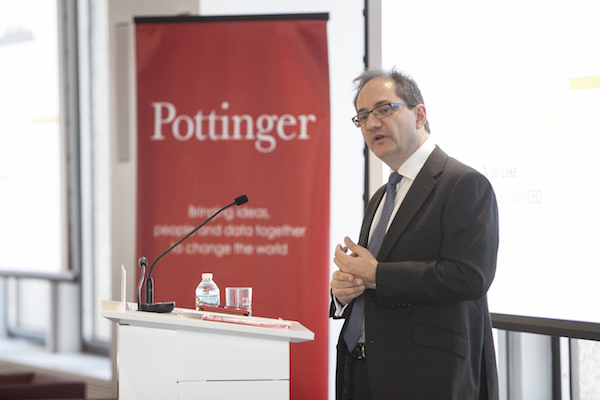 Pottinger executive chair Nigel Lake will present at this week's Myriad Festival in Brisbane
The Australian dream run of economic prosperity is at risk unless the nation supports start-ups to drive a new wave of innovation warns Nigel Lake, executive chair of global advisory firm Pottinger
Mr Lake, who will speak at this week's Myriad start-up festival in Brisbane, said creating new businesses and new jobs was of paramount importance to "the future of everything". "In Australia, the canary in the employment coal mine is wobbling on her perch," he said.
"Though unemployment is low, real wage growth is stubbornly slow and is further imperilled by an imminent wave of technology. The threat to the Australian dream is severe. More than 90 per cent of the value of our top 100 companies is in old economy industries, with the top four all banks.
"In the US, the four largest companies are Microsoft, Apple, Google and Amazon. So far this century, Australia has created just two tech start-ups worth more than A$1bn - Atlassian and Canva, collectively valued at about A$20bn. In contrast, the 10 largest US tech companies have created more than A$4 trillion during the same period. Australia doesn't even feature on some world tech start-up maps.
"Global competitors bring huge economies of scale and the capacity to steamroll local businesses on quality, service and price. New market entrants to Australia such as Amazon aren't anti-competitive –they're hyper-competitive."
Mr Lake said Australia would lose jobs to other countries unless it developed a vibrant start-up sector to create valuable new companies in fields such as technology and life sciences. "Without investment capital to fund these companies, we will lose economic upside to other countries," he said.
"Without a determined effort to retain both investment and jobs onshore as companies mature, Australia's over-exposure to low-growth, low-return sectors will increase, undermining the nation's retirement savings and quality of life.
"We need to weave innovation into our social fabric to sustain the prosperity of our nation. It's not just about products or profits or jobs – it's really about 'the future of everything'."
Mr Lake said start-ups were significant because they deployed disruptive technology unhindered by legacy investments and business models. "While only a few may succeed, those winners can change industries and, indeed, economies," he said.
"At Pottinger, although our work with start-ups comprises just one-tenth of our business, we believe it represents at least half of our future.
"Without focussed support of start-ups, the odds are against Australia. Massive scale advantages create winner-take-all sectors, with nearly all industry leaders now based in either the USA or China.
"Even this is just the tip of the economic iceberg. Back in 2013, Oxford University published research showing that existing technology could already replace more than half of all existing jobs. This was before self-driving vehicles became an imminent reality – threatening an activity that generates significant employment in many countries.
"To date, corporate complacency has held back the threat from technologies such as Artificial Intelligence (AI) and robotisation. With post-GFC economies growing and corporate profits strong, institutional inertia encourages executives to leverage current corporate structures and strategies to collect their performance bonuses.
"However, when profits come under pressure from an economic slowdown, management will pull the cord to exploit AI and robotics and other emerging technologies to slash costs and maintain profits.
"This will do more than just disrupt industries – it will deliver dramatic changes in employment too. Unemployment will increase significantly, both undermining personal tax revenues and adding to welfare costs.
"To thrive in the 21st century, Australia needs to exploit the coming wave of technological change by encouraging start-ups to create disruptive opportunities that challenge and change the status quo."
Click here to read Nigel Lake's full column, Start-ups are key to our future, from last Saturday's The Australian. If you have any problem accessing that link, you can also read Nigel's column by clicking here.
For media assistance, call John Harris on 08 8431 4000 or email john@impress.com.au.
About Pottinger http://www.pottinger.com
Pottinger is a global advisory firm headquartered in Sydney and New York that works with large companies, governments and startups around the world on long-term strategy and M&A. Our independence allows us to provide completely objective advice and we offer a completely different proposition to traditional consulting and investment banking advisors, seamlessly integrating true strategic thinking, commercial insight, financial expertise and execution excellence.
Pottinger has won multiple awards in recognition of its contribution to staff and clients and was highlighted as a role model by the Australian Government's Workforce & Productivity Agency. Pottinger also contributes to global initiatives such as the B20 Task Forces and China's One Belt One Road program.
Related News
Memo to Australia, from the World: Change now!

Twenty two of the world's largest and most influential companies have a critical message for Australia: Urgent and focussed action on climate change is an economic and social imper...
Record Aussie team attends 'Davos for women'

Award-winning Sydney businesswoman Cassandra Kelly this week leads a record delegation of senior Australian executives to attend the Global Summit of Women, running in Paris, Franc...