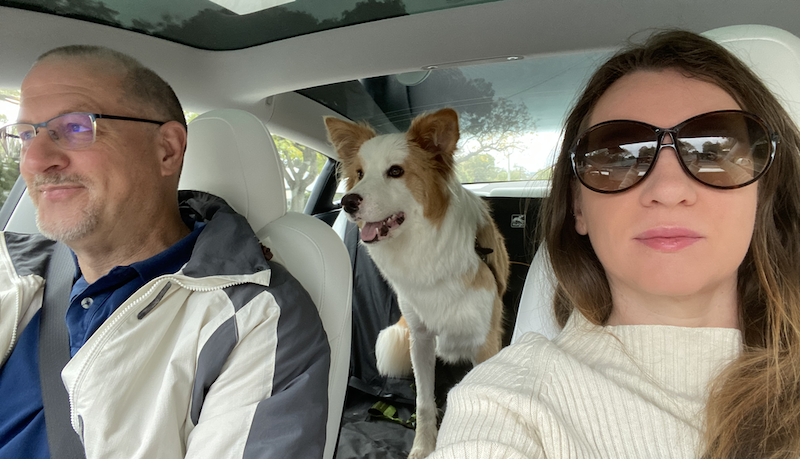 Simon and Anna Hackett with Rainee helping from the back seat
A grassroots fundraising campaign set up by Australian cleantech investors Anna and Simon Hackett has raised more than $200,000 to support the Climate 200 initiative in just three days.
Based on the belief that Australia's political system is too broken to tackle climate change, Climate 200 was established by Simon Holmes a Court to support local independent candidates for the next Federal election who stand for cleaning up politics and following the science on climate change.
Simon Hackett first became known nationally as an Internet entrepreneur through his company Internode. Since selling Internode in 2012, Simon and Anna have actively invested in a range of innovative and cleantech companies, including ASX-listed Redflow.
Anna and Simon believe the only way to clear the current climate policy gridlock is for more genuinely independent Australians, who follow the science, to be elected to the Federal Parliament at the next election. To achieve this goal, on October 1, they offered to match donations to Climate 200, dollar-for-dollar, to as much as $100,000.
Before the end of Sunday, October 3, more than 500 donors had given $102,500, which Simon and Anna have matched to raise a total of $205,000 for Climate 200. Click here for the campaign details.
Related News
VAF turns up national sales volume in 2016

Iconic loudspeaker manufacturer VAF Research is aiming for strong growth this year with innovative new products, a beefed-up channel and the backing of technology entrepreneur Simo...
Henry Austin savours the sound of success

Max MasonResurgent Adelaide restaurant The Henry Austin is delighting diners with high-fidelity VAF SoundWall speakers that match the venue's fine food and wine with a diner-...
AvPlan takes off in the USA

The internationally successful AvPlan software, which allows pilots of high performance planes to use an iPad to prepare and file their aircraft flight plans in just minutes, is no...