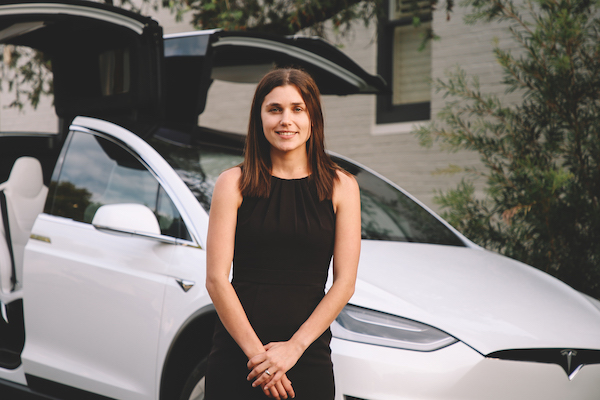 Evoke founder and CEO Pia PetersonAustralia's first fleet of chauffeur-driven, zero-emissions cars, Evoke, has launched in Melbourne, providing Victorian customers with the carbon-free transport they have long requested.
Launched in Sydney in 2015, Evoke operates a fleet of electric cars that can each avoid emitting more than five kilograms of carbon dioxide into the air every time it takes a passenger from the Melbourne CBD to the airport.
Evoke founder and CEO Pia Peterson said the Melbourne launch was due to customer demand. "Melburnians who use our cars in Sydney have long asked us when we would be there," said Pia. "It is great to now provide them with comfortable emission-free transport at both ends of their journey.
"We soft-launched in Melbourne in November last year, which was a bit of a baptism of fire because of Melbourne Cup day. It took our driver two hours to get into Flemington, which was the longest unplanned wait we've ever had!"
Evoke's long-intended launch in Melbourne was delayed by tumultuous times in the Australian chauffeur-driven car industry as regulators and competitors struggled to respond to the arrival of commercial ride-sharing services such as Uber, Lyft and Ola.
Evoke put its first cars on the roads of Sydney in May 2015. During the next three years, the company expanded its Tesla fleet with Model S and Model X electric vehicles that have covered more than 1.8 million kilometres of emissions-free motoring. This has avoided the need for more than 230,000 litres of imported petrol and the release of 570 tonnes of carbon dioxide into the atmosphere.
In 2019, with a total of 12 cars on the road, including three in Melbourne, Evoke has more than 25 drivers working a range of shifts, as well as Pia and her husband of eight years, Mat, who left his successful software business to become Evoke's Head of Technology. In 2016, tech entrepreneur and Tesla enthusiast Simon Hackett became an investor in Evoke after using its cars in Sydney.
Pia, who left a senior technology job at Westpac to pursue her dream of creating a cleaner world with an emission-free car fleet, had a "life-changing moment" in 2014. "When I first sat in a Tesla, with the ability to see it, touch it, feel it, I realised it really was a game-changer," she recalls.
"I would never describe myself as a 'car person' but I was excited by the fact you could charge it off renewable energy. That Model S was the first electric vehicle I had ever been in. Sitting in it was so different. It was completely quiet. The acceleration went from zero to hero v-e-r-y quickly. It was mind-boggling at the time. To understand it, it felt like going from the buggy age to the space age. On the road in this car, you felt like you were in the future whereas everyone was driving around in the past."
Pia said Evoke's early years came with plenty of challenges. "Everyone I spoke to told me to avoid the chauffeur business because the industry was in decline," she said.
"Then, in our first year, the NSW Government started to phase out hire car plates, which we require to access transit lanes in order to cut 30 minutes off a trip to the airport. As well as the difficulty of getting hire car plates as we grew in 2016 and 2017, the appreciating US dollar made the price of Teslas much more expensive than when we started. Instead of $115,000-$120,000 per car, we now have to pay more than $140,000.
"There's also the issue of charging our vehicles quickly in order to make the biggest difference by keeping our fleet on the road. When we started, there were very few options for us to quickly recharge our vehicles but as technology has progressed this situation has improved, although when Tesla removed supercharger access for commercial vehicles, this presented us with a problem in Melbourne - one that we are still working on."
Despite these challenges, Evoke has recorded strong growth in a shrinking industry sector due to its customer service: Ensuring cars arrive on time; making it easy for executive assistants (EAs) to book and change cars for their bosses; ensuring the cars were clean and their drivers courteous.
Evoke is now considering expansion to Brisbane, Adelaide and perhaps New Zealand.
Click here to view a recent YouTube interview with Pia and Mat Peterson. To learn more about Evoke, visit https://www.evoke.limo/. An interview or high-resolution image of Pia Peterson is available by calling John Harris on +61 8 8431 4000 or emailing john@impress.com.au.
Related News
AvPlan takes off in New Zealand

The internationally successful AvPlan software, which allows professional and recreational pilots to use an iPad to prepare and file airplane flight plans in just minutes, is now a...
Simon Hackett invests $2.2 million in RedFlow

Australian technology entrepreneur Simon Hackett today reveals he has invested $2.2 million to become a major shareholder in ASX-listed battery storage developer RedFlow Ltd. Bris...
VAF turns up national sales volume in 2016

Iconic loudspeaker manufacturer VAF Research is aiming for strong growth this year with innovative new products, a beefed-up channel and the backing of technology entrepreneur Simo...