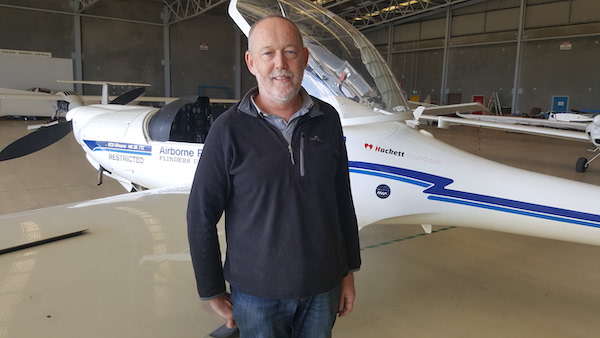 Airborne Research Australia Director Dr Andrew McGrath Philanthropic organisation Hackett Foundation has donated $100,000 to Airborne Research Australia, a not-for-profit Australian research institute that conducts world-leading measurements of climate change.
Airborne Research Australia (ARA) https://www.airborneresearch.org.au/ operates two purpose-designed single-engine Diamond aircraft equipped with globally unique self-developed or adapted environmental measurement equipment.
With climate change a growing concern globally, and ongoing debate about human contribution to it, precise environmental measurements are vital for a deeper understanding and better-informed policy.
ARA is one of few organisations globally with the operational ability to measure from an airplane how much carbon dioxide is absorbed by growing plants - called carbon dioxide (CO2) sequestration. Typically, this eddy covariance flux measurement is taken from a tower, which limits its reach to within about 100 metres of the tower, whereas ARA can perform it over hundreds of kilometres nearly anywhere in Australia.
ARA also currently measures "methane plumes" emitted from Australian "fracking" gas extraction facilities in south east Queensland and, soon, in north west WA. Methane, a greenhouse gas which can last in the atmosphere for as long as 100 years, is 34 times more potent than carbon dioxide.
ARA was established more than 30 years ago at Flinders University as a unique, national and international research group for airborne research. This year's donation is the latest support from the Hackett Foundation, which in 2017 donated more than $1 million to enable ARA to become a Commonwealth-approved not-for-profit entity. Now independent of Flinders University, ARA maintains strong links with university-based research and education.
ARA has seven employees, including founder and chief scientist Professor Jorg Hacker and recently appointed director Dr Andrew McGrath.
Hackett Foundation principal Simon Hackett said ARA's environmental measurements provided reliable real-world observations of Australia's changing climate on local, regional and even continental scales. "This recent donation demonstrates our support for ARA's work as it continues on the path to self-sufficiency," he said. "Although climate change measurements are just one part of its expertise, these activities make a valuable contribution to informing the debate about how best to respond to the climate challenge."
Andrew McGrath said ARA was globally unique in its combination of dedicated resources and environmental focus. "We do everything from measuring volcanic ash in the air for airline safety to investigating how ultrafine particles released by modern coal-fired power plants can push rain out to sea," he said.
"While we've had the ability to measure carbon sequestration and emissions from our airplanes for 20 years, today this feels like an extraordinarily valuable resource in the current carbon-aware environment, which we fear is substantially under-utilised.
"While climate change measurements are a small part of what we do, it is growing in importance: For example, we are working with local governments and state government agencies to identify how increasing temperatures from climate change may make cities less liveable and to develop appropriate responses.
"ARA is incredibly grateful to the Hackett Foundation for its support which enables us to continue this important work as we establish the organisation as fully self-funding."
For media assistance, call John Harris on 08 8431 4000 or email john@impress.com.au
About Airborne Research Australia (ARA) https://www.airborneresearch.org.au
ARA's airborne platforms are unique. Its capabilities and approach to airborne environmental research and monitoring are unmatched worldwide in terms of the available sensing toolkit combined with the most cost-effective, flexible and clean airborne platforms available today operated by a small team of multi-talented specialists. ARA operates purpose-built (manned) motorgliders with modern very quiet and clean engines using unleaded petrol, leaving a minimal footprint during research flights making it possible to map even the most sensitive environment without disturbing it and/or its inhabitants such as protected areas of the Great Barrier Reef or World Heritage Areas in southern Tasmania or the Kimberley in Western Australia
Related News
Hackett powers ahead with Redflow at Base64

Technology entrepreneur Simon Hackett today reveals plans to enhance Base64, his $7 million renovated office complex built around an historic Adelaide mansion, by installing Austra...
Hackett Foundation sponsors WOMADelaide 2016

The charitable foundation run on behalf of the family of technology entrepreneur Simon Hackett has agreed to become the Presenting Sponsor of the WOMADelaide world music festival...