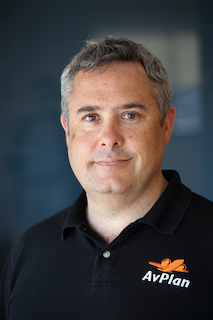 The internationally successful AvPlan software, which allows professional and recreational pilots to use an iPad to prepare and file airplane flight plans in just minutes, is now available for New Zealand pilots.
Now available, the AvPlan EFB 3.4 includes complete support for New Zealand after AvPlan officially licensed all maps and the Aeronautical Information Package (AIP) from Airways NZ.
For New Zealand pilots, AvPlan offers VNC chart for New Zealand, a seamless IFR (Instrument Flight Rules) en route chart for New Zealand and the complete NZ AIP, Volumes 1 to 4, including geo-referenced airport diagrams and VFR (Visual Flight Rules) and IFR approach and departure procedures.
Founded in 2011 by pilot and software developer Bevan Anderson, AvPlan http://www.avplan-efb.co.nz is an iPad and iPhone-based app that dramatically simplifies the process of developing and filing aircraft flight plans. Thousands of pilots throughout Australia and the United States already use AvPlan.
Australia's aviation industry watchdog CASA (the Civil Aviation Safety Authority) recently certified AvPlan as a permitted "Electronic Flight Bag" (EFB) application that can be used in flight instead of paper-based aviation maps and charts in Australia.
Bevan Anderson said AvPlan was the perfect tool for both professional and recreational pilots. "AvPlan can take you from an intention to a filed IFR flight plan in just a few minutes," he said.
"Today, tablets are such sophisticated computers that AvPlan is all you need to plan your flight and then fly your plan. AvPlan's moving map capabilities, including the integration of all relevant IFR and VFR charts into a single 'mega chart' for each flying mode, gives you capabilities that exceed those available on the Multi-Function Device in an advanced aircraft cockpit."
As well as automatically maintaining the latest available maps and charts on the iPad, AvPlan uses Internet access to automatically download and interpret current weather forecasts for optimal route planning and to calculate the most time and fuel-efficient flight altitudes. AvPlan also includes Cloud features that allow multiple devices to easily share flight plans and aircraft data models.
AvPlan's licensing permits a single subscriber to use the software on three devices – allowing a pilot to carry a primary iPad, a backup iPad and to have a second backup literally 'in their pocket' because AvPlan can run happily on an iPhone.
AvPlan also steps pilots through the pre-flight checklist including weather, Weight and Balance, fuel calculations and restricted zone status checking. The software allows a pilot to file their flight plan electronically with AirServices directly from within the app. It will then construct a PDF document package containing all of the relevant flight documents needed for that flight, including flight plan, flight plan confirmation from AirServices, Weight and Balance, fuel calculations, weather forecasts and all relevant airport charts for the planned route flown.
A particularly useful feature for Instrument Flight Rules (IFR) pilots is the advanced capability to automatically calculate optimal IFR routes for the planned flight. The pilot can choose the route that best meets their needs and then simply use 'drag and drop' to modify that route directly on the map.
The AvPlan software is free to download, which includes an automatic 30-day trial data access period. Ongoing use is based on subscribing annually for required chart and map data. Pilots can subscribe to their choice of VFR charts, IFR charts and IFR instrument departure and approach plates.
Whereas a full set of New Zealand paper charts and documents costs about NZ$300-$600 a year to obtain and update, an AvPlan subscription starts from just NZ$99 a year. AvPlan maps for Australia and the United States are also available for pilots who want to fly while overseas.
For media assistance, call John Harris on +61 8 8431 4000 or email john@impress.com.au.
AvPlan is an iOS app developed by AvSoft Australia Pty Ltd, an Australian company that designs and delivers mobile applications by pilots for pilots. AvSoft's flagship product, AvPlan, simplifies the aviation experience by creating an Air Traffic Control-compliant Electronic Flight Plan on your tablet device in just minutes, eliminating the time-consuming complexity and cost of developing flight plans based on paper maps and tables. Designed to meet the high standards of professional pilots, AvPlan is affordable for and easily used by any pilot, whether they're in the cockpit of a 747 or a Cessna.
Related News
VAF turns up national sales volume in 2016

Iconic loudspeaker manufacturer VAF Research is aiming for strong growth this year with innovative new products, a beefed-up channel and the backing of technology entrepreneur Simo...