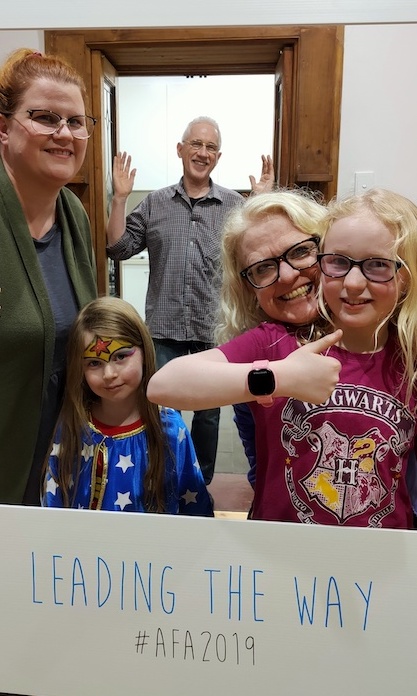 Albinism Fellowship members including AFA President Elizabeth Beales (second from right)About 100 individuals and family members affected by albinism will gather in Adelaide this weekend for a national conference about the causes, challenges and achievements of this often-misunderstood genetic condition.
International and Australian speakers at the eighth national Albinism Conference will dispel common misconceptions about albinism which range from "all albinos have pink eyes" to the unlikelihood of an albino assassin as portrayed in The Da Vinci Code.
Albinism, a genetic condition caused by a lack of pigment in the skin, hair and eyes, is linked to pale skin, white hair and poor eyesight, often in the range of legal blindness. With an occurrence of one in 17,000, Australia has an estimated 1500 persons with albinism.
Albinism Fellowship of Australia President Elizabeth Beales said the truth about people with albinism was actually much more interesting than the ridiculous myths that abound. "Dan Brown's novel, The Da Vinci Code, was just plain stupid – most people with albinism have very poor eyesight, which really limits your ability to succeed as an assassin," she said.
"However, one of the great achievements of these conferences is our ability to showcase the incredible success that people with albinism have achieved in their professional and personal lives."
Persons with albinism work in all areas of Australian life. AFA members include NSW State Government NSW Minister for Families and Communities Minister for Disability Services Gareth Ward, singer Lauren Dawes, a doctor, business owners and public service executives. Former Adelaide man, Professor Paul Delaney, who has albinism, is a leading astronomer in Canada.
With delegates and speakers coming from throughout Australia, New Zealand and the US, the biennial Albinism Conference will run from this Friday, August 23, to Sunday, September 25, at the Mercure Grosvenor Adelaide Hotel on North Terrace.
Topics will include navigating the NDIS; skin cancer and albinism; the latest research in genetics and vision; building resilience; martial arts for self-protection; and using the latest technology to get ahead.
As well as the formal conference presentations, including keynote speeches by US genetics expert Dr Murray Brilliant, leading eye specialist Associate Professor Celia Chen and child resilience specialist Dino Mennillo of OFTC, the conference includes a comprehensive children's program, including teenagers making a fashion tour of Adelaide's op shops and using phone-based GPS apps to find their way around town.
Sponsors for the 2019 Albinism Conference include the Hackett Foundation, Torrens University, PMD Financial Advisers and the Department of Social Services, which provided a National Disability Conference Initiative Grant. In addition, many sponsors donated funds anonymously via PayPal, including school students, workgroups, friends and others.
For media assistance, please call John Harris on 08 8431 4000 or email john@impress.com.au.
About the Albinism Fellowship of Australia http://albinismaustralia.org/
The Albinism Fellowship of Australia (AFA) is a national, non-profit organisation established in 2005. The fellowship is run by volunteers who each are personally touched by albinism in some way. The AFA's key purpose is to provide support, education and fellowship to those with albinism, parents of children with albinism as well as their families and friends. While the albinism community in Australia is small, the AFA provides a united voice to encourage productive developments and support within business, government and media.
Related News
Grateful mum gives back with Mack's Mates

When Sunshine Coast mother Amanda Collins discovered that her newborn son Mack was legally blind, she was overwhelmed with doubts about his future. So, using the power of the Inte...