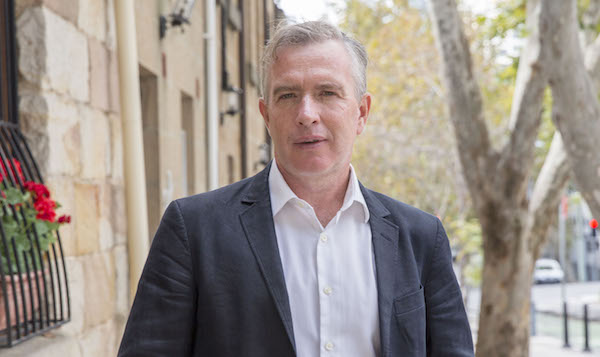 Ultra Commerce CEO Matthew HylandAfter raising more than $10 million for growth this year, Sydney-based Ultra Commerce has acquired US-based Slatwall Commerce to accelerate the global reach of its end-to-end digital commerce platform.
In its second strategic acquisition of 2021, Ultra Commerce is integrating technology and teams from both companies to strengthen its digital commerce platform, which is designed to deliver richer integrated eCommerce capabilities for customers ranging from fast-growing small businesses to global enterprises.
Slatwall Commerce is a Massachusetts-based company with deep technical capability in "headless commerce", which decouples the back end of an eCommerce website from its customer-facing "head".In June, Ultra Commerce acquired a New Zealand-headquartered company with clients in North America, Vesta eCommerce, which brought market-leading product data management capabilities to further enhance the Ultra Commerce platform by enabling it to easily integrate disparate sources of product data.
With these acquisitions, Ultra Commerce now has eight offices in five countries, with more than 100 staff serving over 60 customers globally, positioning the business to scale quickly.
Ultra Commerce has more than two decades of experience in the rapidly evolving eCommerce sector, from tailoring, deploying and managing third party enterprise-level eCommerce applications on its commerce cloud platform, which processes billions of dollars in revenue annually.
In recent years, Ultra Commerce has focussed on developing its own end-to-end digital commerce SaaS platform offering - incorporating core eCommerce, order management, content management, product data management and marketplace capabilities in one license - to exploit a gap between limited entry-level systems such as Shopify and Big Commerce, and expensive enterprise systems such as SAP.
Ultra Commerce CEO Matthew Hyland said the integration of Slatwall Commerce and Vesta eCommerce technical capabilities into the Ultra Commerce offering would enhance its powerful end-to-end eCommerce platform. "Ultra Commerce is now positioned to serve customers from fast-growing small businesses up to the most complex large global enterprises, all with one platform and one license," he said.
"We're delivering a digitally transformative solution that fills critical gaps inhibiting enterprise growth by providing the flexibility and robustness to add extra capabilities as the business and market evolves.
"We also equip fast-growing smaller businesses – which previously had to choose between cheaper limited systems or expensive enterprise platforms – with access to ready-to-use enterprise capabilities and features that can scale with their business."
Slatwall Commerce CEO David Crouch said the combined technology and development prowess created an eCommerce solution that would revolutionise this space. "This could not be a more exciting time for the company or for the eCommerce market as a whole," he said.
The eCommerce market globally is currently hot with sales driven by the pandemic. The Gartner report Manufacturing Digitalization Roadmap for Agility and Revenue Generation estimates that manufacturers will double digital revenue between 2020 and 2023. The Ultra Commerce platform meets the most complex customer product and order management requirements, including everything from marketplace to multi-site and storefront capabilities for B2B, B2C and D2C, with a single back end.
Brian Dearth, Head of Strategy & Growth at Vaimo, a full-service omnichannel agency and Ultra Commerce partner, said many clients were asking for a more 'comprehensive commerce platform' or one that could scale with them as they grew. "The Ultra Commerce acquisition of Slatwall Commerce certainly delivers on that," he said. "The addition of Slatwall's capabilities not only provides additional features within the current Ultra Commerce platform, but also delivers that future state functionality for our clients."
For media assistance in Australia, call John Harris on +61 8 8431 4000 or email john@impress.com.au.
Key takeaways from this announcement:
In the age of B2B digital transformation, Ultra Commerce is redefining the modern eCommerce platform.
By integrating the two feature-rich commerce platforms, Ultra Commerce continues to provide 'more included' value through a single software license.
Customers can confidently grow with a platform that continuously meets their unique requirements
Ultra Commerce innovates faster with eight international offices across five countries, continuing to drive global customer success.
About Ultra Commerce www.ultracommerce.co
Ultra Commerce is an enterprise eCommerce platform for B2B, B2C and Marketplaces. Its fully integrated platform features built-in OMS, CMS and PIM, providing a seamless end-to-end customer experience and helping them grow their online business. With offices worldwide, Ultra Commerce boasts a truly global network of teams and partners to best service their international clientele – offering more than just a platform but a technology partner for them as they grow.
About Slatwall Commerce www.slatwallcommerce.com
Slatwall Commerce is a modern eCommerce platform that combines enterprise features with headless commerce flexibility. Our single-tenant software-as-a-service platform powers a wide range of B2B and B2C enterprises, empowering them to create engaging customer experiences while managing products, orders, accounts, inventory, fulfillment, marketing, customer service, and reporting in a single solution. Slatwall SaaS is cloud-based and includes robust 24/7 customer support.
Related News
AWS names UltraServe to new partner program

Amazon Web Services (AWS) has selected Sydney-based Managed Service Provider and Advanced AWS Consulting Partner, UltraServe as one of a handful of partners globally for its just-l...
UltraServe drives into Asia with hybris

Managed cloud services provider UltraServe accelerates its sales drive into Asia next week on an invitation-only tour with hybris, the world's fastest-growing commerce platform pro...