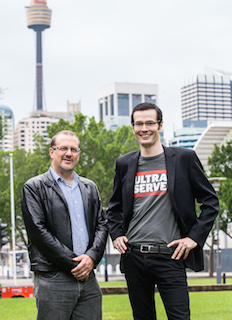 Australian leader in trusted cloud and managed hosting services UltraServe today announces it will use a multi-million-dollar investment by Internet entrepreneur Simon Hackett to accelerate its growth.
Sydney-based UltraServe has thousands of servers under management for customers that include some of Australia's leading ecommerce retailers including Catch of the Day, Deals Direct, Appliances Online, General Pants and Radio Rentals.
UltraServe founder and CEO Samuel Yeats has agreed to sell a 40-per-cent stake in his 14-year-old company to Internode founder Simon Hackett. The multi-million-dollar investment will enable UltraServe to accelerate its international growth servicing e-commerce retailers, including in Europe and Asia.
UltraServe also establish its Lighthouse customer management platform under a standalone company Orchestrated (http://orchestrated.io) to support telecommunications carriers and Managed Service Providers (MSPs).
Simon Hackett said he was investing in UltraServe as it was the right company at the right time. "UltraServe has smart leadership, a strong market presence and unique IP that will scale internationally," he said.
"As companies embrace Cloud infrastructure to provide more on-demand services for their customers, UltraServe has the opportunity to transform its Australian achievements into international success and also to leverage its hard-won expertise into a new segment of the market."
Samuel Yeats said UltraServe would benefit from both the extra working capital and from the credibility of having Simon Hackett as a major investor. "This investment enables us to execute on our expansion overseas, initially in Europe and further into Asia," he said.
"We can now take advantage of Amazon Web Services' global Cloud infrastructure and other cloud platforms to expand very efficiently in other countries.
"In addition, UltraServe has built a Cloud infrastructure orchestration system called Lighthouse, with some very unique features, that lets us offer a managed services layer across Amazon, VMware and other clouds, which equips us to keep our vendors honest.
"We are now commercialising Lighthouse for use in the telco and Managed Service Provider and are working closely with some very large organisations. When the inevitable question about backing is asked, Simon's investment will give us additional credibility and offer greater assurance to customers. Simon's involvement will leverage his experience and his passion for the telco sector."
Simon Hackett's long-time colleague John Lindsay - former Chief Technology Officer for both iiNet Limited and Internode - will take a seat on the UltraServe board and work closely with the company's management to develop its services to even better meet the needs of the carrier and ISP markets.
For media assistance, call John Harris on 08 8431 4000 or email john@impress.com.au
About UltraServe http://www.ultraserve.com.au
UltraServe began its operations in 2000 and has developed to become a market leader in the Australian cloud & managed hosting services industry. In 2009, UltraServe was the first company to launch an Infrastructure as a Service (IaaS) cloud computing product in Australia – a true testament to its company vision of being industry innovators. UltraServe has continued to broaden its business model through key channel partner relationships such as Amazon Web Services and hybris, a SAP company. which will continue to shape the direction of the business moving forward. UltraServe is 100 per cent Australian-owned – creating and shaping the adoption of cloud technology in this country.
Related News
UltraServe lures McClure to new growth role

UltraServe Chief Revenue Officer Paul McClureAustralian commerce specialist UltraServe has recruited experienced technology executive Paul McClure to the new position of Chief Reve...
UltraServe raises $5M to fund global growth

UltraServe CEO Matthew HylandAustralian e-commerce specialist UltraServe has launched a $5 million capital raising to accelerate its international growth into the US and European m...