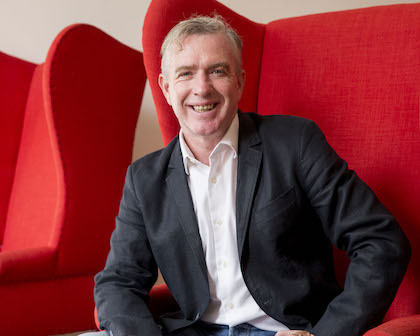 UltraServe CEO Matt HylandAustralian ecommerce specialist UltraServe has expanded into the United States, opening an office in Chicago to meet demand for its SmartStack-powered SAP Hybris deployment and hosting expertise.
UltraServe expects its Illinois office to grow within the next few months as word-of-mouth spreads about its ability to deploy ecommerce platforms in weeks rather than months.
UltraServe recently undertook a major engagement in the US to assist a pharmaceutical multinational to put a challenging Hybris deployment back on track. It achieved this within weeks. UltraServe's US beachhead follows a successful international expansion that has seen the Sydney-based company win business in countries as diverse as Brazil and India.
UltraServe CEO Matt Hyland said the Chicago office gave the company "skin in the game". "We deal with some very large organisations, so establishing a US office adds to our global credibility," he said.
"Its location in Chicago is conveniently central between the country's Atlantic and Pacific coasts, which simplifies the process of meeting with enterprise organisations and assisting customers once they're onboard. It also broadens UltraServe's 24x7 support capability.
"As well as winning new business, existing customers are expanding the services they buy from us."
UltraServe has experienced a surge in demand for its services through international recognition of its expertise in deploying, supporting and hosting the SAP Hybris ecommerce platform in the Cloud. Central to UltraServe's success is its SmartStack provisioning software, which arguably provides the fastest, most scalable and resilient way to develop and deploy SAP Hybris ecommerce platforms in the Cloud
Matt Hyland said UltraServe's intense focus on ecommerce was driving its growth. "By making SAP Hybris run easily for enterprises, we save businesses time, money and pain when deploying and running their ecommerce platforms," he said.
"There's a wide range of generic Cloud-hosting businesses, but as no other business specialises in this particular area in the way that we do, we're starting to become well-known for our experience, expertise and specialist skills in ecommerce platforms.
"As well as experience delivering projects for enterprise customers here in Australia and overseas, UltraServe has its unique SmartStack software, which automates a lot of the development and deployment process. This lets us deploy new iterations of development in hours instead of weeks.
"The benefit for our customers in Australia, the US and other international markets is not only a reduced development time and cost, but a faster learning curve. SmartStack lets them identify what works - and what doesn't - and deploy a redesigned environment in days instead of months. That prompt responsiveness provides them with a serious competitive advantage."
For media assistance, call John Harris on 08 8431 4000 or email john@impress.com.au.
About UltraServe http://www.ultraserve.com.au
Since its founding in 2000, UltraServe has become a market leader in the Australian Cloud and managed hosting services industry. In 2009, UltraServe was the first company to launch an Infrastructure as a Service (IaaS) Cloud computing product in Australia – a true testament to its company vision of being industry innovators. UltraServe has continued to broaden its business model through key channel partner relationships such as Amazon Web Services and SAP Hybris, which will continue to shape the direction of the business moving forward. UltraServe is 100 per cent Australian-owned – creating and shaping the adoption of Cloud technology in this country.
Related News
AWS names UltraServe to new partner program

Amazon Web Services (AWS) has selected Sydney-based Managed Service Provider and Advanced AWS Consulting Partner, UltraServe as one of a handful of partners globally for its just-l...