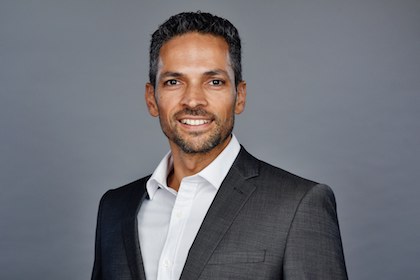 UltraServe VP Operations Vishnu RoyAustralian ecommerce specialist UltraServe has created the new role of Vice President Operations to support delivering services to meet rapidly growing local and international demand.
Concurrently with opening its first US office in Chicago, UltraServe has filled the newly created role with Vishnu Roy, an experienced service delivery and project manager who has previously worked for Dimension Data, ASIC and IBM Australia.
UtraServe's new VP Operations role involves managing senior project engineers, the service desk and general operations across the business, both in Australia and internationally.
UltraServe CEO Matthew Hyland said Vishnu Roy had a strong background with large tech businesses such as IBM and DiData. "He is very professional, gets things done and has a lot of experience with managing and leading teams," he said.
"UltraServe is growing strongly so we need someone with the experience and expertise to manage bigger and more complex projects. Our project portfolio increasingly supports mission-critical projects for large enterprise customers which have higher expectations, so require more management.
"Vish is the right person for that role. He is great at driving outcomes. During the six months since I became CEO, I've seen Vish stand out as he performs at that top level."
Vishnu Roy has worked as a Senior Project Manager at UltraServe for the past two years.
UltraServe has seen surging demand for its services through international recognition of its expertise in deploying, supporting and hosting the SAP Hybris ecommerce platform in the Cloud. Central to UltraServe's success is its SmartStack provisioning software, which arguably provides the fastest, most scalable and resilient way to develop and deploy SAP Hybris ecommerce platforms in the Cloud.
For media assistance, call John Harris on 08 8431 4000 or email john@impress.com.au.
About UltraServe http://www.ultraserve.com.au
Since its founding in 2000, UltraServe has become a market leader in the Australian Cloud and managed hosting services industry. In 2009, UltraServe was the first company to launch an Infrastructure as a Service (IaaS) Cloud computing product in Australia – a true testament to its company vision of being industry innovators. UltraServe has continued to broaden its business model through key channel partner relationships such as Amazon Web Services and SAP Hybris, which will continue to shape the direction of the business moving forward. UltraServe is 100 per cent Australian-owned – creating and shaping the adoption of Cloud technology in this country.
Related News
UltraServe rides SAP Hybris demand into US

UltraServe CEO Matt HylandAustralian ecommerce specialist UltraServe has expanded into the United States, opening an office in Chicago to meet demand for its SmartStack-powered SAP...
UltraServe raises $5M to fund global growth

UltraServe CEO Matthew HylandAustralian e-commerce specialist UltraServe has launched a $5 million capital raising to accelerate its international growth into the US and European m...
UltraServe joins hybris Extend for growth

Managed cloud services company UltraServe expects faster local and global growth after becoming a managed public cloud provider for hybris software, the world's fastest-growing com...
UltraServe drives into Asia with hybris

Managed cloud services provider UltraServe accelerates its sales drive into Asia next week on an invitation-only tour with hybris, the world's fastest-growing commerce platform pro...