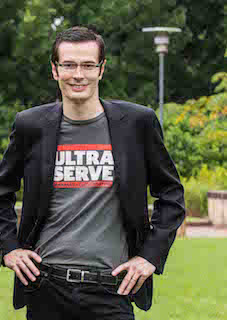 Managed cloud services provider UltraServe accelerates its sales drive into Asia next week on an invitation-only tour with hybris, the world's fastest-growing commerce platform provider.
Hybris, an SAP company, last October welcomed Sydney-based UltraServe into its hybris Extend program, an online marketplace that makes it easy for its clients to integrate quality hybris-certified solutions. UltraServe is the program's only Infrastructure and Platform as a Service provider.
UltraServe CEO Samuel Yeats will use the hybris alliance to strengthen the company's push into Asia with a presentation to hybris clients and partners in Korea on Tuesday, April 7. He will also discuss new regional projects with an existing client, followed by visits to China and Hong Kong.
UltraServe's inclusion on the hybris Asian sales tour follows the company's successful participation last month in the hybris Global Summit in Munich, which generated strong interest from both prospects and partners globally.
Samuel Yeats said the Asia Pacific region was one of the fastest growing areas of the world for hybris. "We're the only cloud offering-endorsed platform for hybris in this region," he said.
"We host about 90 per cent of all hybris customers in Australia and New Zealand, so this accelerated drive into Asia represents a terrific opportunity both for us and for hybris."
UltraServe is building on the strong international acceptance of its SmartStack Platform-as-a-Service (PaaS) offering, which includes clients in Australia, New Zealand, Europe and the Americas with the latest project underway in Brazil for a large global brand.
UltraServe's Asian expansion is in line with its international growth plans. The company already has staff in Australia and Europe and has a business development manager on the ground in Asia. Through its partnership with Amazon Web Services, UltraServe uses data centres in Japan, China, Singapore and Sydney.
Samuel Yeats said international capacity was a core element of UltraServe's planned growth. "For example, we've just launched one New Zealand client into the UK," he said.
"The plan is for them to roll out to 20 countries with us over the next 20 months. As well as reaching out to new customers with activities like the hybris Global Summit in Munich and this Asian sales tour, we're building up our internal capacity to meet this international demand."
About UltraServe
UltraServe began its operations in 2000 and has developed to become a market leader in the Australian cloud & managed hosting services industry. In 2009, UltraServe was the first company to launch an Infrastructure as a Service (IaaS) cloud computing product in Australia – a true testament to its company vision of being industry innovators. UltraServe has continued to broaden its business model through key channel partner relationships such as Amazon Web Services and hybris, an SAP company, which will continue to shape the direction of the business moving forward. UltraServe is 100 per cent Australian-owned – creating and shaping the adoption of cloud technology in this country. Learn more at http://www.ultraserve.com.au.
Related News
AWS names UltraServe to new partner program

Amazon Web Services (AWS) has selected Sydney-based Managed Service Provider and Advanced AWS Consulting Partner, UltraServe as one of a handful of partners globally for its just-l...
UltraServe strengthens team for global growth

Global ecommerce cloud business UltraServe today announces a strengthened management team as the company prepares to accelerate its international growth. UltraServe has appointed ...