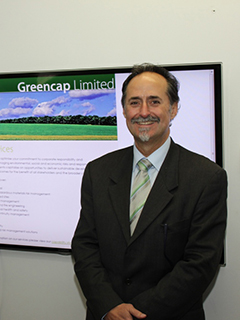 ASX-listed company Greencap has gained real-time reporting across its multinational operations while saving more than $130,000 a year since it installed Microsoft Dynamics NAV.
Deployed by Melbourne-based Evolution Business Systems (EBS), Microsoft Dynamics NAV lets Greencap run organisation-wide reports in seconds on critical issues such as resource utilisation, project profitability and financial performance. Previously, compiling monthly board reports across the company could consume more than 30 days of productive time.
Greencap Ltd provides risk management services in every state of Australia and in South East Asia. With more than 400 professional, technical and engineering staff located in 16 offices, the group services more than 5000 business and government entities in the education, property, resources, industrial, manufacturing, retail and services sectors.
In 2010, Greencap recognised that its financial management systems were holding it back, so it started looking for a replacement. Dubbed Project One, the initiative began by identifying financial software that offered end-to-end integration, usability and the ability to evolve and scale to meet future needs.
Greencap chose Microsoft Dynamics NAV, which was deployed by EBS in strategic stages over the next 14 months.
Greencap Group Commercial Manager Peter Mitchell said Microsoft Dynamics NAV provided great transparency. "It's a clear pool now that lets us analyse where our revenue is coming from," he said.
"By centralising the business into one financial framework, Dynamics NAV can tell us how our consultants are delivering and it allows us to perform analytics that identify the quality of the revenue. Timesheet compliance is significantly enhanced since the introduction of the NAV portal.
"Dynamics NAV also helps with our management of projects. At any point during the project, we can send out invoices. While this was possible previously, such progress payments were not consistent. Now time is measured, allocated to projects and project managers have clear visibility of their projects. They can connect with clients, identify where project risk exists and manage the project accordingly."
Microsoft Dynamics NAV has also reduced the time required for month end reporting by at least a week - from more than 21 days to a "hard close" date of three days after month's end. Also, Greencap's senior executives no longer have to wait for subsidiary companies to file individual reports: Using the NAV Portal developed by EBS, they can run company-wide performance reports at any time from anywhere.
Microsoft Dynamics NAV has also eliminated the need for inter-company invoicing by providing company-wide visibility of available resources. Greencap can now efficiently allocate those resources throughout the group without cumbersome paperwork. As well as allowing for more accurate project quoting, it reduces the need to draw on external resources to deliver projects.
Dynamics NAV also provides complete visibility of timesheet entry compliance. Greencap estimates that it has saved more than $130,000 annually through greater timesheet compliance and entry efficiency, invoicing processing, improved administrative workflows and reduced paperwork.
Mr. Mitchell said EBS had been a fantastic partner for Greencap. "EBS is a nice fit for Greencap and has demonstrated a 24-hour support capability," he said.
"A larger vendor might not have been as committed to make this project work for us and a smaller vendor would not have been able to. When you're an EBS client, it feels like you are their only client."
For media assistance, call John Harris on 08 8431 4000 or email john@impress.com.au.
More about Evolution Business Systems
Evolution Business Systems (EBS) specialises in business management solutions that give you the freedom to focus on your business. EBS does this by automating your core business processes and integrating your specialist business applications to deliver the right financial management solution. With deep expertise in leading financial applications including Arrow Financials and Microsoft Dynamics™ NAV, EBS works beside clients to ensure their software solves problems rather than creating more.
EBS has a detailed implementation strategy that is tailored to customers in terms of timelines, requirements, risks and responsibilities as well as project variations and external requirements. While it does not sell or support hardware or site network environments, EBS informally partners with selected specialists in these areas to provide clients with a "total solution".
Evolution Business Systems Pty Ltd
PO Box 1115, Camberwell, VIC 3124
p 1300 303 973 f 1300 858 973
e info@ebsys.com.au
wwww.ebsys.com.au
Related News
EBS navigates 15 years of evolution

Melbourne-based business software specialist EBS (Evolution Business Systems) this month celebrated 15 years in business after posting a record year during 2015-16. EBS is a Micro...