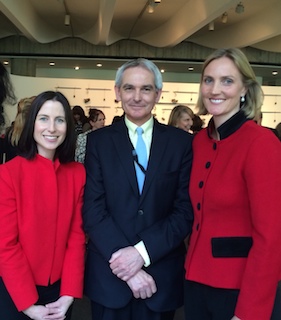 Award-winning Sydney businesswoman Cassandra Kelly this week leads a record delegation of senior Australian executives to attend the Global Summit of Women, running in Paris, France.
Cassandra, who last week won the Business category of Women Of Style Awards 2014 for her work in business and philanthropy, is the joint CEO of global strategic and financial advisory firm Pottinger.
Cassandra and her colleague, Pottinger executive director Olivia Loadwick, are leading a team of one dozen Australian women to the Global Summit of Women as part of their two-year-old Glass Elevator program.
Aimed to reduce the disproportionate number of senior executive women leaving the workforce just before they reach the most senior level, Glass Elevator is a leadership development initiative that currently has more than 200 participants, supporters and mentors. These include Narelle Hooper, Catherine Fox, Rebecca McGrath, David Jones Deputy Chair Jane Harvey, Catherine Tanna, John Borghetti, Alison Watkins, Graham Bradley, and Carnival Australia CEO Ann Sherry AO.
Cassandra, who will also speak at the Global Summit of Women, said the conference aimed to connect women with each other and to create business opportunities. "Through the Glass Elevator, we're bringing women to Paris, each with a mentor, to gain the most from the experience," she said.
"This is much more than networking, it's about opening their eyes to the opportunities and teaching these women to build skills that are across sectors, introducing them to their peers in other markets and helping them chart their own path to corporate success.
"We have only two criteria for joining the Glass Elevator program: Firstly, each woman must be nominated to attend by her CEO and, secondly, she must give back by mentoring other women. That has a 'ripple effect' that we believe will create a powerful lever for change."
Dubbed 'Davos for Women', the Global Summit of Women, now in its 24th year, brings together women business, professional, and governmental leaders in Paris for three days to explore practical strategies and best practices in accelerating women's economic progress worldwide. More details are available at http://globewomen.org/globalsummit/.
Cassandra Kelly said Paris was an appropriate venue for the Global Summit of Women. "After implementing a series of reforms to increase the number of women in senior positions, including introducing a quota system, France is now ranked fourth in the world for female board appointments, with women holding 18.3 per cent of board positions," she said.
"More pleasing is that more than half of the boards in France now have at least three female directors. This does not seem to be simply a tick the box exercise for France. There is something more important going on.
"France has awoken to the fact that if we want economic prosperity, then we cannot rely on the abilities of only half the world's population. Sadly, in Australia, the figures are not so impressive. If the equity or fairness argument is insufficient to persuade people to give women the same right to contribute, then one hopes that the economics will be.
"One statistic for Australia alone is compelling: If we were to equalise women's workforce participation with men's, it would add 13 per cent to the economy - around $200 billion in real terms. A global statistic from research recently released by Credit Suisse shows executive boards with both men and women have outperformed those comprised only of men by 26 per cent over the past six years.
"We believe that Glass Elevator, by encouraging women to assist each other to stay in the workforce, is an important initiative to contribute to this transition. A satisfying fact is that of the 200 women in the program, I haven't heard about anyone leaving the workforce yet."
Cassandra Kelly is available for interview from Paris by telephone. To arrange an interview, call John Harris on 08 8431 4000 or email john@impress.com.au.
About Pottinger www.pottinger.com
Pottinger is a global advisory firm. We specialise in helping companies and governments to achieve transformational change or growth by combining the best of strategic consulting and investment banking skill sets. We are differentiated by our culture of ethics, long term thinking, and by our pioneering application of leading edge statistical analysis techniques to boardroom decisions. We have built an exceptional track record, cutting through uncertainty to bring insight and clarity to the most critical and complex decisions.