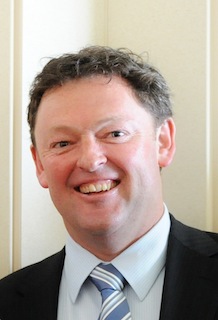 Award-winning ERP specialist Evolution Business Systems (EBS) has undergone a dramatic transformation since it collected its first Australian Achiever Award six years ago.
EBS scored a 98.73 per cent customer satisfaction rating in this year's awards. The Melbourne-based company has always secured a customer satisfaction rating of more than 90 per cent since receiving its first Australian Achiever Award in 2010.
Founder and managing director Paul Woods said EBS was a radically different company to what it had been in 2010. "It has changed completely," he said.
"We've gone from being a single-product reseller to a Microsoft solutions house. In the early days, we were largely restricted to Melbourne. Now we work with clients throughout Australia and in New Zealand. We pick up a wider spread of work with a completely different suite of solutions and a completely different skill base as well.
"The biggest change is that customers no longer want just a product - they want a solution that is grounded in a trust-based relationship. Our approach is to constantly ask 'what can we give to make a difference?' rather than 'what can we take to make a sale?' Our ongoing success in the Australian Achievers Awards demonstrates that our customers value this approach."
Now into its eighteenth year, the Australian Achiever Awards are an independent award system based on assessment ratings from a business's customers.
Daniel Langelaan, Chief Finance Officer of EBS customer Australian Drug Foundation, congratulated EBS on its latest award. "EBS is a very good business to work with," he said.
"They respect your business and their approach is more as a partner not just treating you as a customer. We are always kept up to date with new ideas and products and they keep us in the loop with regard to anything which may directly affect us."
Paul Woods said 2014-15 was shaping up as a strong year for EBS. "The first half was dominated by major pieces of work and upgrades for existing clients," he said.
"However, since just before Christmas, we've had a huge number of referred prospects that are interested in obtaining business efficiencies, integrating cloud services, deploying Office 365 and taking advantage of geo-located data centres. This customer demand, the move from in-house applications to integrated cloud services, is driving the next stage of our evolution."
For media assistance, call John Harris on 08 8431 4000 or email john@impress.com.au.
About Evolution Business Systems (EBS)http://www.ebsys.com.au
Evolution Business Systems (EBS) specialises in business management solutions that give you the freedom to focus on your business. EBS does this by automating your core business processes and integrating your specialist business applications to deliver the right financial management solution. With deep expertise in leading financial applications including Microsoft Dynamics NAV and Arrow Financials, EBS works beside clients to ensure their software solves problems rather than creating more. EBS has a detailed implementation strategy that is tailored to customers in terms of timelines, requirements, risks and responsibilities as well as project variations and external requirements. While it does not sell or support hardware or site network environments, EBS informally partners with selected specialists in these areas to provide clients with a "total solution".'
Evolution Business Systems Pty Ltd
PO Box 1115, Camberwell, VIC 3124
p 1300 303 973 f 1300 858 973
e info@ebsys.com.au whttp://www.ebsys.com.au
Related News
EBS tops 97% in customer satisfaction awards

Australian financial software specialist EBS (Evolution Business Systems) has gained a record customer satisfaction rating of more than 97 per cent in the 2013 Australian Achiever ...