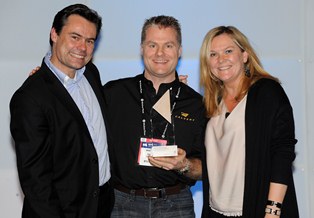 Australian small business technology expert Calvert Technologies has claimed the Small Business Specialist Partner of the Year award in the annual Microsoft Australia Partner Awards.
Calvert Technologies was presented with the Small Business Specialist Partner of the Year award last night at the Microsoft Australia Partner Conference at the Gold Coast Convention & Exhibition Centre.
Not only was Calvert Technologies the only South Australian company to win an award, the Adelaide-based business was the only South Australian Microsoft Partner to be recognised as a finalist across all 21 award categories and several thousand Microsoft Partners!
Calvert Technologies specialises in providing IT support and consultancy services to small businesses. The Microsoft Certified Partner focuses on providing quality solutions that don't "break the bank".
The company's founder, Dean Calvert, is internationally recognised as an expert in deploying Microsoft's software in a small business environment, which typically covers businesses from one to 250 users. Dean regularly speaks at Microsoft conferences in the US, Australia and New Zealand.
Dean Calvert said the Small Business Specialist Partner of the Year award recognised the unique importance of making Microsoft's products relevant to small business. "For many of our customers, we are the IT department," he said.
"As well as having the technical skills to design systems, deploy technology and diagnose problems, we also need to communicate with our customers in a way that is relevant to their business.
"The great thing is that approach has given us many long-standing customers: They recognise that their business is best served by having the support of the right technology partner rather than simply shopping around for the lowest cost. So this award is an acknowledgement of those customers whose loyalty has equipped us to build up a deep and relevant skillset in Microsoft technologies to their benefit."
Dean said he expected the coming year to see strong growth in demand for Cloud-based services. "Many of our customers are starting to recognise that flexibility, rather than cost, is the primary driver for moving to the Cloud," he said.
"After putting their toes in the water last year, these customers now understand that, configured correctly, Cloud-delivered services can be more secure, more available and more affordable than the traditional approach of hosting email servers in-house – particularly for small businesses."
For media assistance and photographs, call John Harris at Impress Media Australia on 08 8431 4000 or email jharris@impress.com.au
Calvert Technologies, a Microsoft Gold Certified Partner, provides high quality information technology support and consultancy services to businesses throughout Australia. The privately-owned company focuses on providing quality solutions that don't "break the bank", so that its clients enjoy real value and productivity with a low total cost of ownership.
Related News
Calvert strikes gold by thinking small

Adelaide-based Calvert Technologies has boosted recruitment and secured Gold Partner status from Microsoft by meeting demand for new technology from SA's small business sector....
Calvert grows with new GM and two recruits

Adelaide-based smart business IT specialist Calvert Technologies continues its strong growth by appointing its first General Manager and recruiting two new members of staff. Calve...
Calvert eyes vivid future through takeover

Dean Calvert (left) with Bobby CollierAustralian small business IT specialist Calvert Technologies has expanded its capacity, especially in the real estate industry, after acquirin...