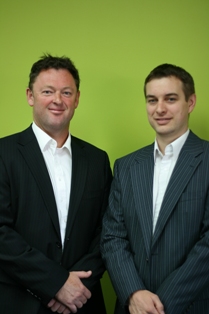 Award-winning Arrow business partner, Evolution Business Systems (EBS) has launched a same-day support service in Adelaide for companies using the Arrow Financials accounting software program.
The company, which has its national support centre in Melbourne, is already providing Arrow Financials support for customers in both Australia and New Zealand.
Evolution, established by managing director Paul Woods in 2001, has won a series of awards for its performance, including being four-time recipient of Arrow's Business Partner of the Year accolade.
The company, with a staff of 10, will initially support Adelaide customers using its national help desk service as well as sending Mr. Woods, and technical director Jonathan Martin, to SA for several days each month. Their aim is to establish a critical mass of business that will enable them to employ a locally-based Arrow consultant by the middle of this year.
Arrow Research Corporation was established in Australia in 1989 to develop cost-effective, reliable and integrated business solutions. With offices in Australia, the UK and New Zealand, the company has an installed user base of more than 50,000 registered users.
Jonathan Martin said Adelaide provided an attractive market for the company. "Adelaide currently only has one Arrow support company, which can mean delays in getting help on occasion," he said.
"However, if you're having a problem with your accounting software, sometimes it just can't wait, so we are launching Evolution's Arrow support service in Adelaide to provide Arrow customers with a choice.
"We also believe that Evolution's presence in the Adelaide market will raise the visibility of Arrow Financials as a great accounting system for fast-growing companies. That has the potential of making the cake bigger for everyone rather than just fighting over existing business.
"We want to give Arrow's Adelaide customers a greater choice. We typically deal with problems within four hours, and within two hours for urgent issues, so our commitment to providing same-day Arrow support is readily achievable."
Evolution Business Systems is accredited as an Arrow Premier Partner. The company is also a Microsoft Gold Certified Partner, with deep skills in deploying and supporting the Microsoft Dynamics NAV enterprise resource planning (ERP) system for medium-sized organisations
During its establishment phase, the company will work from the Pirie Street offices of Adelaide website development and optimisation specialist DBG Technologies, which will in turn operate from the Evolution offices when its employees are working in Melbourne.
Mr. Martin said the arrangement was clearly win-win. "We have worked with DBG for a number of years, so this is an extension of that long-standing partnership," he said.
"As well as this cultural synergy, launching our Arrow support service in SA can leverage DBG's great local knowledge and contacts – which we have reciprocated with them in Melbourne."
About Evolution Business Systems
Evolution Business Systems is a financial software specialist that equips its clients with software that is designed to achieve their business goals. With deep expertise in leading financial applications including Arrow Financials and Microsoft Dynamics™ NAV Business Solutions, Evolution works alongside its clients to ensure their software solves problems rather than creating more.
For more information about Evolution Business Systems, visit www.ebsys.com.au
For media assistance to arrange interviews or obtain photographs, call John Harris at Impress Media Australia on 08 8431 4000 or email jharris@impress.com.au.
Related News
Vic Air on cloud 9 with EBS & Dynamics NAV

Vic Air Supplies Financial Accountant Shelley Hughes Melbourne-based air conditioning company Vic Air Supplies has migrated its business systems to the cloud after replacing its ol...
The Pancake Parlour tastes success with EBS

Melbourne restaurant chain The Pancake Parlour has simplified reporting, business analysis and ease-of-use since Evolution Business Systems (EBS) upgraded its financial management ...