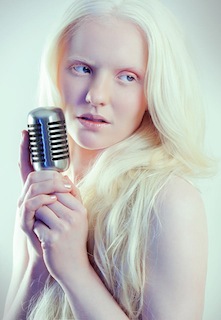 Fresh from this year's season of "The Voice", Lauren Dawes, an outstanding singer with albinism, will perform at the Albinism Fellowship of Australia's conference in Sydney this weekend.
Lauren, a model, actress and singer whose soulful performance on 2013's season of 'The Voice' won her a spot being mentored by Seal, will sing at the welcome address and the "after conference" party
A person with albinism - an albino - is unable to produce the pigment melanin, so they typically have fair skin and hair and a visual impairment, often reading in the 'legally blind' category.
More than 230 people are expected at the Albinism Fellowship of Australia national conference with runs from October 11-13. The event attracts people with albinism, their families and friends, medical and ophthalmic professionals from throughout Australia as well as NZ, Fiji, Kenya, Ghana, Nigeria and the US.
Albinism Fellowship President Elizabeth Beales described Lauren as a powerful role model for young people and children with the same condition. "Lauren's singing talent and performance's on 'The Voice' have won her many fans both inside and beyond the albinism community," she said.
"As well as causing pale skin and hair, albinism also affects the vision, including sensitivity to glaring lights, which Lauren faced with great aplomb during her performances in 'the Voice' We are very much looking forward to having Lauren's performances "bookend" the conference."
In a great coincidence, the Australian conference is running over the same dates as the British conference held by the Albinism Fellowship UK & Ireland, so the two events will share video linkups during the Australian conference dinner.
The Albinism Fellowship of Australia is the peak group to support those affected by the condition along with their friends and families. The organisation seeks to disseminate accurate and timely information about albinism, both directly and through the media.
Albinism is a widely misunderstood condition, where myths and misrepresentation create inaccurate portrayals, which in turn creates fear and anguish in the community or for parents of a newly diagnosed baby with albinism. While albinism in no way impedes physical or mental capacity, many with the condition fight against vision issues, stigma or bullying to achieve in their own field.
The Albinism Fellowship of Australia welcomes your interest in this or other stories about albinism, the people, the condition and medical/personal narratives, particularly during the national conference, which draws many people with albinism. Important - Please advise of your interest for conference entry and access.
For more information:
For media assistance, please contact John Harris on 08 8431 4000 or email john@impress.com.au
Related News
Grateful mum gives back with Mack's Mates

When Sunshine Coast mother Amanda Collins discovered that her newborn son Mack was legally blind, she was overwhelmed with doubts about his future. So, using the power of the Inte...