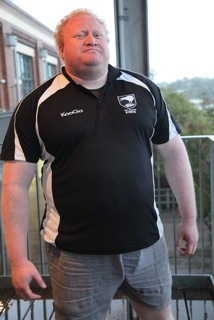 Queensland will host a free, fun-filled event on March 29 to bring together Pacific Islanders with albinism to share experiences, access services and identify how they can assist compatriots with the rare genetic condition.
The PolyVision event in Ipswich will provide an introduction to genetics, vision impairment, adaptive technology and services available for people with albinism in Australia. PolyVision will also have a fun atmosphere with DJ Mr John Sinisa presenting multicultural music and a catering menu featuring some Pacific Islander food favourites.
The event will also include several displays of interest such as Pacific Islander handicraft display, Vision Impairment Equipment Solutions selection from Vision Australia and artwork by photographer Mr Rick Guidotti on loan from the 'Celebrating Diversity' photographic exhibit.
Albinism is an inherited condition that can affect the colour of a person's skin, hair and eyes and is found in many different human populations. Pacific islanders with albinism can have reddish gold hair; light brown, green or blue eye colour and white/ pink pale skin. Their vision is within the legally blind range, which means they need help with reading small print and seeing fine details, plus problems with light glare and depth perception.
While numbers vary, in North America and Europe, it is estimated that one in every 20,000 people have some form of albinism. Research by Ms Helene Johanson and the Institute for Molecular Bioscience identified that in one Polynesian population, one in 669 people is born with albinism – which is one of the highest recorded rates of Oculocutaneous Albinism Type 2 in the world. This research also found that people living in the islands have limited access to health resources and information, as a result their skin may be extensively sun damaged by early adulthood.
PolyVision organiser Carol Morgan said the event was aimed to reach people from the Pacific Islands who lived in Queensland and northern New South Wales. "The problem is that people who have come to Australia from their island homes can feel quite shy and isolated," she said.
"Albinism is surprisingly common condition in these small island communities, so this workshop will discuss some of the cultural myths about albinism, present the facts about this inherited condition and then provide information about strategies and resources to help people deal with it.
"Importantly, this workshop will allow Pacific Islanders a chance to share stories, determine their commonalities and to work to formulate the best plan to help people with albinism in their communities."
The PolyVision Seminar and Workshop will run on Thursday, March 29, at the W.G.Hayden Humanities Centre at 56 South Street, Ipswich.
Guest speaker Professor Peter Soyer, Chair of Dermatology, School of Medicine, Southern Clinical Division - The University of Queensland and Princess Alexandra Hospital - will host an interactive session about dermatology and sun damage. He will also offer free skin examinations for people with albinism.
An afternoon workshop specifically focusing on Pacific Islanders with albinism will be run by Ms Helene Johanson and Ms Annette Ferguson, coordinators of the Pacific Albinism Project.
The event will also feature several other guest speakers giving short presentations about how those people with albinism living in Australia can access services for vision impairment (VI) in general.
The official umbrella organisation for the event is the Albinism Fellowship of Australia, represented by Ms Carol Morgan (QLD State Branch Coordinator).
For more information about the PolyVision seminar and workshop
Contact Carol Morgan 0438 926 653 or 07 3700 6055 or email carol@bricklespace.com
For more about the Pacific Albinism Project (PAP) http://www.pacificalbinismproject.com/
About The Albinism Fellowship of Australia http://albinismaustralia.org/
Related News
Grateful mum gives back with Mack's Mates

When Sunshine Coast mother Amanda Collins discovered that her newborn son Mack was legally blind, she was overwhelmed with doubts about his future. So, using the power of the Inte...