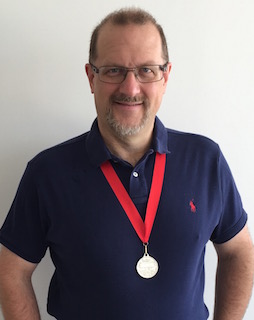 Internode founder and NBNCo board director Simon Hackett this week collected the Charles Todd Medal for his outstanding contributions to the Australian telecommunications industry.
The Charles Todd Medal is awarded annually by TelSoc (Telecommunications Association Inc.) to acknowledge individuals who have made truly outstanding contributions in different aspects of telecommunications. Previous recipients including iiNet founder Michael Malone, inaugural NBNCo CEO Mike Quigley and serial telecoms entrepreneur Bevan Slattery.
The Charles Todd Medal is named after Sir Charles Todd (1826-1910), the British-born architect of this country's national communications system in the 1850s who, in the 1870s, led the construction of the 3000km Overland Telegraph Service, which linked Adelaide and Darwin. This epic construction project provided one of the great advances in communications between England and Australia
This year, the seven-person Selection Panel was unanimous in recommending that the 2014 Charles Todd Medal should be awarded to Simon Hackett.
The selection panel consisted of three TelSoc directors – Peter Gerrand, Graham Shepherd and Peter Hormann – and four broader industry representatives - former ATUG Managing Directors Rosemary Sinclair and Allan Horsley; ACCAN CEO Teresa Corbin; and CommsAlliance CEO John Stanton.
On behalf of TelSoc, Peter Gerrand awarded the 2014 Charles Todd Medal to Simon at TelSoc's Charles Todd Oration event in Sydney on Wednesday, November 5, 2014.
In announcing the award, TelSoc stated that Simon "ticked several boxes" to win the Charles Todd Medal: For business entrepreneurship and achievement in delivering telecommunications infrastructure; for technology innovation; for setting high standards for customer service; and in recent years for making valuable contributions to telecommunications policy.
TelSoc went on to state that Simon shares qualities with Charles Todd himself: Both built new telecommunications infrastructure in regional South Australia, and both have been successful managers of large telecommunications engineering projects.
Simon founded trailblazing ISP Internode in 1991. Six years later, he established Agile Communications, a licensed carrier that built pioneering Internet Protocol networks in regional areas of SA. After selling Internode to ASX-listed iiNet Ltd in early 2012, Simon joined the iiNet board for 18 months, resigning to accept an invitation to join the board of NBNCo.
Simon was also founding president of the former South Australian Internet Association, and a founding member of the Internet Society of Australia, on which he served as a director. He is a Fellow of the Australian Computer Society and is a founding member of TelSoc.
In addition to his directorship of NBNCo, Simon is an active investor in Australian technology companies and is currently completing a major renovation of an historic Adelaide building as the headquarters for his latest business, Base64.
For media assistance or more information, call John Harris on 08 8431 4000 or email john@impress.com.au.
Related News
Simon Hackett invests $2.2 million in RedFlow

Australian technology entrepreneur Simon Hackett today reveals he has invested $2.2 million to become a major shareholder in ASX-listed battery storage developer RedFlow Ltd. Bris...