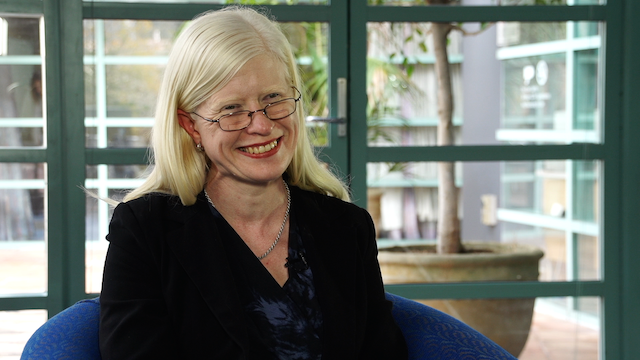 As an international campaign to protect people with albinism gains steam, Australians affected by the genetic condition will gather to celebrate International Albinism Awareness Day on Monday, June 13.
More than 1300 Australians are affected by albinism, which has a frequency of one in 17,000 in this country. The genetic condition, which arises from a lack of pigment in the skin, hair and eyes, is linked to pale skin, white hair and poor eyesight, often in the range of legal blindness.
Over the coming week, people with albinism will gather with friends and family throughout Australia including Perth, Adelaide, Melbourne, Sydney, Newcastle and Townville, to promote awareness of the genetic condition. Persons with albinism work in all areas of Australian life, from running businesses and working in the public sector to raising children and representing citizens in parliament.
However, In Africa, persons with albinism are regularly killed in countries including Malawi, Mozambique and Tanzania world where their body parts are valued in witchcraft. Superstition leads many to believe children with albinism bring bad luck.
In April, the UN's independent expert on human rights and albinism, Ikponwosa Ero, warned that people with albinism in Malawi are at risk of "systemic extinction" due to relentless attacks fuelled by superstitions. Ms. Ero, who is herself an albino from Nigeria, said Malawian police had recorded 65 attacks, abductions and murders of albinos since the end of 2014.
Last week, a pastor living with albinism in Malawi stopped serving his congregation, saying he feared for his life, as attacks on albino nationals continued in the southern African country.
Dr Shari Parker, Secretary of the Albinism Fellowship of Australia and President of the World Albinism Alliance, said International Albinism Awareness Day was a global initiative to banish misinformation about albinism. "People with albinism, like myself, are ordinary folk who, thanks to the genetic lottery, can't make pigment," she said.
"As a result, we have white hair and skin and really bad eyesight, which means many Australian albinos may face discrimination and bullying. In Africa, being an albino literally threatens life and limb, which is behind the UN's declaration. I believe International Albinism Awareness Day contributes to a global process of shining a light on albinism, so we can get rid of the ignorance."
June 13 was pronounced as International Albinism Awareness Day in 2014 by a resolution of the United Nations' General Assembly. Celebration of the inaugural International Albinism Awareness Day last year was enormously successful, generating broad national and international media coverage.
Dr Parker explains the value of greater public awareness of albinism on this YouTube video at https://youtu.be/Yx81hZNL0sw?list=PLYUVFvBU-loc_-OPNhNuFCZo8EqeDhL73
For media assistance, interviews or photographs, contact John Harris on 08 8431 4000 or email john@impress.com.au.
Albinism Fellowship of Australia http://albinismaustralia.org/
The Albinism Fellowship of Australia (AFA) is a national, non-profit organisation established in 2005. Volunteers who each have been personally touched by albinism in some way run the fellowship. The AFA's key purpose is to provide support, education and fellowship to those with albinism, parents of children with albinism as well as their families and friends. While the albinism community in Australia is only small, the AFA provides a united voice to encourage productive developments and support within business, government and media.