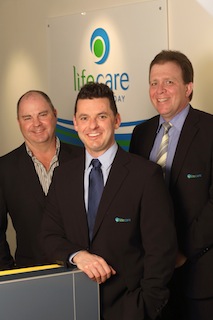 When leading South Australian aged care provider Life Care recognised its Wide Area Network design was holding back progress, preventing deployment of its new care planning software system, it turned to MIMP connecting solutions for an answer.
During 2012, MIMP connecting solutions deployed a full-duplex licensed wireless network, running as fast as 100 megabits per second, to connect Life Care's corporate head office in North Adelaide with its five aged care facilities in the eastern and southern suburbs of Adelaide, one as far as 50km away.
Life Care has now deployed its new care planning software system, making it much easier to administer and monitor its entire operations. Life Care is also planning to use Voice over Internet Protocol (VoIP) services over MIMP's network and has already connected facilities with videoconferencing links, improving communications and reducing travel overheads.
"The cost for telecom services over three years was very similar to the CapEx cost of the MIMP solution, which will last twice as long," said Life Care Information Communications Technology Manager Kane Pryzibilla.
Read on for the full MIMP customer case study: Life Care improves patient care with MIMP network
Customer
Life Care
Industry
Aged care
Business problem: Slow WAN performance was holding back Life Care
Life Care is a not-for-profit public benevolent institution that provides highly trained people, excellent facilities and services to support quality of life for older South Australians.
Established by the Churches of Christ in 1950, Life Care is an award-winning provider of aged care services. Recent accolades include the 2012 International Dementia Excellence Award – Life Engagement and the 2012 Aged Care Standards and Accreditation Agency National Better Practice Award – Staff Development and Retention.
Life Care builds and maintains quality retirement homes, provides resources and services to help people maintain independence in their own homes and operates residential aged care facilities at several locations across the Adelaide metropolitan area. These facilities, caring for about 400 residents, are located at Joslin, Glen Osmond, Everard Park, Old Reynella and Aldinga.
In 2011, Life Care recognised that the Wide Area Network (WAN) it used to connect its Corporate Services office in North Adelaide with these facilities was holding the organisation back.
The previous WAN comprised a mixture of public band microwave radio links between some sites and residential-grade ADSL2+ broadband between others, often with very slow performance.
Life Care Information Communications Technology Manager Kane Pryzibilla said the Wide Area Network was disjointed. "We were evaluating how to push out care planning software services to our sites, but we lacked the infrastructure to support that rollout," he said.
"We had public band radio links between three sites, Glen Osmond, Everard Park and Joslin, and home-grade ADSL2+ with relatively poor performance connecting to Reynella and Willunga.
"We wanted to roll out Citrix Web-based software services, which would have 12-18 clients at each site. Pushing that down a four to five megabit per second (Mb/s) service was not going to work."
Mr. Pryzibilla said Life Care could not afford to wait for the NBN to connect up its facilities. "The only site covered by the NBN at the moment is Aldinga," he said. "Our other sites are not earmarked for several years. We couldn't afford to wait that long."
MIMP solution: Full-duplex 100 Mb/s wireless links over 50km
Life Care issued a tender to six carriers to provide a Wide Area Network to connect its North Adelaide office with the five residential aged care facilities, which were spread over about 50km. MIMP connecting solutions was invited to submit a tender as it had installed Life Care's previous public band radio links.
Mr. Pryzibilla said the business case identified MIMP's solution as the most appropriate for Life Care. "MIMP was the only company that could offer high bandwidth links to our site at Aldinga," he said.
"It offered us many benefits. With licensed spectrum, we receive an uncontended network, so we're not competing with any other network traffic at all. Also, we have the ability to upgrade bandwidth when we require."
Mr. Pryzibilla said another compelling benefit was the MIMP solution offered twice the return on investment of the other tenderers. "Most of the cost of the MIMP solution was capital expenditure, which we expect to get a payback from for the next five to seven years," he said.
MIMP deployed Aviat Networks licenced wireless links on the 18 gigahertz spectrum, running at 100 Mb/s, from Melbourne Street to a relay point on a tall building in the Adelaide CBD. This location relays traffic along either 50 or 100 Mb/s links to the other sites. The longest wireless link is about 30km.
Business benefits: Greater visibility, improved communications and increased business resilience
Life Care can now easily run its People Point care planning system at all sites. "The People Point product replaced all of our paper-based records," said Mr. Pryzibilla.
"We now do everything electronically for the care of our residents. The online system gives us much more visibility of our residents, their care needs and also the site as a whole. Basically it has given us greater flexibility in terms of access to information about anything from resident wellbeing to staffing needs.
"Also, as we're part of a highly regulated industry, our sites need to be accredited every three years. That's now a lot easier using People Point."
The MIMP solution's private band radio is also paying dividends for Life Care. "That was important because we wanted not just to roll out software services, but voice and video as well," said Mr. Pryzibilla.
"We want to use video for meetings, training and other sorts of communication to eliminate the need for commuting between offices.
"We already have one video link between our head office and Aldinga, where we are expanding that site with an extra 30 beds. The person managing that process is located in our Corporate Services office, so, for them, the ability to use that video link to talk face to face with builders and contractors is invaluable."
Mr. Pryzibilla said the increased bandwidth had also delivered improved business resilience through the high-speed links between head office and Life Care's data recovery centre. "We can now replicate all the data entirely," he said.
Mr. Pryzibilla praised MIMP for its flexibility in meeting Life Care's needs. "We hit a few hurdles along the way, including our building roof structure which made us look for alternatives, but MIMP was able to work with us to find the best solution," he said.
"I would recommend MIMP. The fact is that they have a unique product offering and they have the reputation of delivering that type of technology. They absolutely lived up to their reputation.
"Since we've been run the network, we've had no problems. The speed has been great."
For media assistance, call John Harris on 08 8431 4000 or email john@impress.com.au.
About MIMP connecting solutions www.mimp.com
MIMP connecting solutions is an Australian-owned company whose total business focus is the supply, installation and support of high capacity wideband digital transmission systems in the competitive business communications market. Established in June 1985, MIMP connecting solutions has provided and installed in excess of 600 systems throughout Australia. Key clients include the Adelaide Zoo, SA Heart Centre, State and Local Governments, Education, Health, Defence, and large corporations. MIMP connecting solutions is a flexible Adelaide-based organisation with a country-wide network of technicians trained to provide the best onsite and offsite support in the industry.
More information
MIMP connecting solutions
3 Holder Avenue
Richmond, SA 5033, Australia
Phone: 08 8292 5400
Fax: 08 8292 5499
Email: sales@mimp.com
Web: http://www.mimp.com
Related News
MIMP takes another NECA award for innovation

Wireless network specialist MIMP has won another National Electrical & Communications Association (NECA) award in SA for a wide area network it developed for use in the forests...
MIMP beats NBN to Kangaroo Island broadband

Adelaide-based wireless specialist MIMP Connecting Solutions has beaten the NBN to the punch by delivering high-speed broadband services for SA's Kangaroo Island. Supported by the...
MIMP gives Flinders students a $250k Edge

SA-based communications trailblazer MIMP Connecting Solutions is teaming up with Flinders University to provide students with access to cutting edge telecommunications equipment. ...