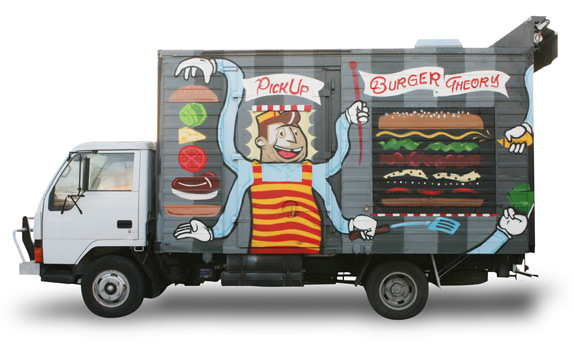 Rob Dean, one of the blokes behind Adelaide's booming Burger Theory business will reveal his recipes for success at a Flinders University business networking event in the CBD tomorrow.
Entrepreneurs in Conversation is a speaker series that began in 2013 with the launch of Flinders' New Venture Institute (NVI). It aims to unite entrepreneurs from across Adelaide and Australia to share their entrepreneurial journey, taking an intimate look at their feats, failures and personal journeys.
Inspired by the scores of mobile eateries lining the sidewalks in the US and Canada, Rob Dean and Dan Mendleson, both sociology graduates of Flinders, opened Adelaide's first food van Burger Theory in 2011 – paving the way for a new culinary craze that eventually prompted the City Council to cap the number of pop-up food vendors in town and enforce new operating regulations.
Renowned for their brilliant burgers and long queues, the boys at Burger Theory have since opened their first bricks-and-mortar diner on the corner of Ebenezer Place and Union St in the city's East End.
For the past year their burgers have been on the menu at Pearl's Diner in Felixstow, a space they share with restaurateur Aurélie from La Waffle.
Aurélie, who has also opened Adelaide's newest lunch and dessert cafe The Naughty Spot on Hutt St, will also be a guest speaker at Entrepreneurs in Conversation on February 4.
The event will be held at Hub Adelaide, a new Government-funded organisation with branches in Melbourne and Sydney that provides shared workspaces, learning opportunities and collaborations across a range of sectors and disciplines.
The NVI has just become an official "community partner" of Hub Adelaide, allowing the Institute free use of the hub's Peel St locale for events, activities and programs such as Venture Dorm – an entrepreneurial education and training course for potential and existing start-ups that began in 2013 by Flinders Partners, the commercial arm of Flinders University, and resumes in April.
The partnership will also allow the Institute to tap into Hub Adelaide's diverse membership base for collaborations, networking and marketing.
Entrepreneurs in Conversation – 'Food for Thought' – is on Tuesday, February 4, from 5.30pm to 8pm at Hub Adelaide, 5 Peel St. Tickets cost $8.50.
For more details or to book visit the NVI website at http://nviflinders.com.au/
Related News
Global boom for SA's smartphone security app

QCamPro founder John Convill: "We are at the start of very strong growth"Global business is booming for an Adelaide-developed smartphone app, QCamPro, that allows subscribers to vi...
Domain claims SA dealer spot for Lanier-Ricoh

Adelaide printer specialist Domain Technologies has announced its appointment as a Lanier-Ricoh Authorised Copier Dealer for South Australia. Domain Technologies promotes itself a...