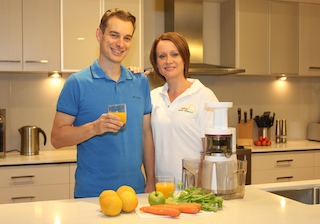 After a lifestyle change that has shed many kilos, Melbourne couple Jonathan and Anne Martin have launched a new business to evangelise the benefits of juicing and blending as part of daily life.
Juice and Blend http://www.juiceandblend.com.au/ is an online store where customers throughout Australia can buy and learn about using high quality juicers and blenders.
Jonathan is a director of successful Melbourne ERP software firm Evolution Business Systems while Anne comes from a background in customer service and financial management.
Jonathan said he and Anne had launched Juice and Blend to blend their personal passion with a business. "We started Juice and Blend to make it easy for other people to get the lifestyle benefits we've gained," he said.
"Seven months ago, we discovered juicing as we were looking for ways to make a change to our lifestyle and become healthier. Since then, we have juiced every day and found the health benefit remarkable. In that time, I've shed 10kg.
"We've also become juice evangelists, telling everyone how good this is for your health and how good it has made us feel. In about November I started looking to improve my new healthy life with some exercise as the juicing was providing me with massive amounts of energy.
"At this point, I took up running and found on the days that I ran, the juice was not enough, so that's when we also started blending, by adding in extra protein etc. By the end of December, we were well and truly entrenched in a life with both juicing and blending.
"Over Christmas, we decided to turn our passion into a business. At Juice and Blend, our aim is to make it easy for customers to find a good quality product with clear and easy information knowing that the products we sell are the best in the business."
Juice and Blend, which offers free shipping Australia-wide, avoids confusing consumers with too many choices by shortlisting a range of excellent products backed by very good warranties, some as long as 20 years. Indeed, its Blentec blenders have a lifetime warranty on the motor coupling, the part that usually fails on cheaper products.
For more information about Juice and Blend, visit http://www.juiceandblend.com.au/.
Related News
SA 'green' builder skips waste on site

Environmentally-conscious SA builder Energy Aspect Living has designed its construction processes to eliminate building site waste and avoid the need for on-site skips. At a time ...
Footy finals reveal butt-ugly facts

Q: What if… at this weekend's AFL & NRL Grand Finals the fields were covered with one year's worth of cigarette butt litter? A: The Swans & Hawks would be batt...
Alan Greig trades in keyboard for corkscrew

After running some of SA's most successful software companies, IT entrepreneur Alan Greig has headed for the hills with his wife Jane Mitchell to run a restaurant in one of SA's ol...
Top wineries head full bottle for Hong Kong

A dozen Australian and NZ wineries are joining forces for a trade mission to Hong Kong this month to capture a share of China's rapidly developing taste for our wines. Winestate M...