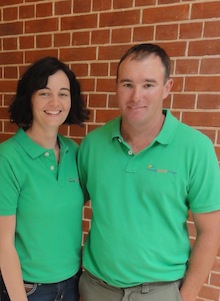 Aspect Living today unveils its innovative design for an affordable, environmentally-friendly home in SA's pioneering Zero Carbon Challenge.
Woodside-based Energy Aspect Living has recruited a team of creative SA businesses, including iconoclastic cartoonist and architect Ross Bateup, to set a new standard in sustainable housing design. From today, Energy Aspect Living's Zero Carbon Home design will be on display in the State Library of SA as part of the Zero Carbon Challenge People's Choice contest. You can vote for the design either online or at the State Library until February 26.*
Backed by Land Management Corporation and the Integrated Design Commission, the Zero Carbon Challenge challenges SA's building industry to aim for "zero carbon" construction. The goal was to design a $300,000, three-bedroom home that minimises the environmental impact from embodied and operating energy during the 50-year life of the building.
As a specialist in environmentally sustainable house construction, Energy Aspect Living is one of just a handful of finalists to reach this stage of the Zero Carbon Challenge.
Energy Aspect Living director and licensed builder Danny Pauley said the Zero Carbon Challenge was a chance to show publicly what was possible today. "We believe compromise is not necessary if you want to look after the environment while building a home," he said.

"Green housing design needs to be about balance, not compromise, if we want to leave a great world for our kids – and for their children. We also wanted to show that South Australia has a local builder which is delivering nationally significant standards of sustainable housing."
Energy Aspect Living has adopted a practical, performance-orientated approach to the Zero Carbon Challenge, which means that its design is achievable in construction.
Mr. Pauley said the Energy Aspect Living team had designed more than a Zero Carbon House. "We've designed a Zero Carbon Home, an environmentally sustainable dwelling that balances a family's lifestyle needs with environmental demands," he said.
"Our Zero Carbon Home embraces nature, with a space-efficient design that takes advantage of free solar energy and refreshing breezes. Spacious openings capture and store the warmth of the winter sun to radiate at night while shading and a breezeway garden cool the air to make air conditioning redundant in summer. "
Energy Aspect Living's Zero Carbon Home design was undertaken by Ross Bateup's architectural design firm, Bateup Urban Design in association with JPE Studio.
* Vote for Team Energy Aspect Living by voting online via Facebook at http://vote.zch.com.au or casting your ballot at the SA State Library on the corner of North Terrace and Kintore Avenue, Adelaide. Voting is open from February 15-26, 2012.
About Energy Aspect Living
Energy Aspect Living is a South Australian-based GreenSmart Award-winning builder that aims to lead Australia into a new era of sustainable homes and lifestyles. For more about the Energy Aspect Living Zero Carbon Home, visit http://www.zerocarbonhome.com.au
Related News
QCam Pro sails towards overseas success

After expanding the number of cameras its remote monitoring smartphone app works with, Adelaide security leader QCam Pro has embarked on a course to pursue the lucrative overseas b...
Adelaide sees red in late-night litter war

Late night littering in Adelaide's entertainment precincts is being tackled from the 'footpath up' in a campaign launched this week on the city's sidewalks. Supported by KESAB, Ad...