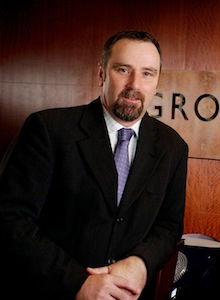 Australian entrepreneur Grant Steinberg has called on companies to embrace a broader view of commercialisation to take full advantage of Australia's innovative capabilities.
"Commercialisation is about more than just turning IP (Intellectual Property) into products," he said. "It's about creating markets. Unless companies embrace that broader view of commercialisation, they are limiting their opportunities."
Mr. Steinberg, who last year sold his company Groundhog Software to listed company DWS Limited (ASX: DWS), first entered the technology industry in the 1990s as one of the founders of Fusion Design.
As well as his business career, which started in 1984 when he established sailboard design firm Newave Marine Products, Mr. Steinberg studied industrial design full-time from 1991-1994 at the University of South Australia. In his final year of study, a project he worked on was selected to represent Australia at the MILIA new media conference in Cannes and also provided the catalyst for establishing Fusion Design with fellow students and co-founders.
Mr. Steinberg said although Australia was better at encouraging commercialisation now than in the 1990s, it was an area that would reward ongoing attention. "Under Steve Jobs, Apple epitomised the rewards of an excellent commercialisation process," he said.
"Apple did not design the first MP3 player or the first mobile phone, but they did design brilliant products and delivered them with brilliant execution. If you think broadly about commercialisation, design and delivery are all part of the same process."
To contact Grant Steinberg, email grant.steinberg@gmail.com.
For media assistance, call John Harris on 08 8431 4000 or email jharris@impress.com.au
 
Related News
Davanz delivers energy for business growth

A Queensland-based business with deep energy technology expertise, Davanz, is aiming to accelerate Australia's innovative application of its rich renewable energy resources. ...
MODERNMAN warns against data complacency

Adelaide-based MODERNMAN Systems Consulting warns that many schools and education agencies risk exposing private data through complacency about computer network security. Increase...
SA 'green' builder skips waste on site

Environmentally-conscious SA builder Energy Aspect Living has designed its construction processes to eliminate building site waste and avoid the need for on-site skips. At a time ...