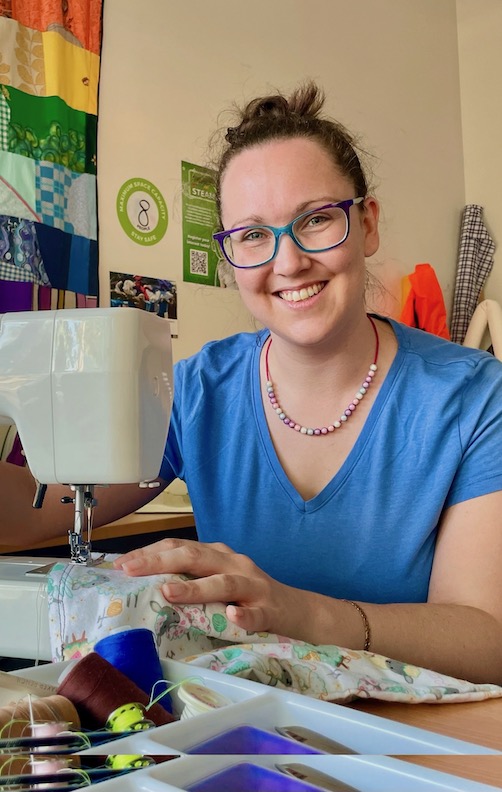 Makerspace Adelaide Operations Manager Laura Gransbury Makerspace Adelaide, a volunteer-run organisation that equips people, from teens to retirees, to share and build old and new skills, will hold a fundraising auction this Friday, February 25, to fund its post-pandemic life.
At the auction, from 7pm, people will bid for volunteers to undertake projects using equipment at Makerspace Adelaide, ranging from laser cutters and sewing machines to 3D printers and traditional hand tools. One item for auction is access to a smoke ring machine, which normally rents to events such as parties for $500, while another is a Cosmic Ray Detector. Only 50 public tickets are available for the Save Our Makerspace auction. Click here for details.
After two years of planning, Makerspace Adelaide opened the doors of its 700-square-metre premises at 100 Franklin Street, Adelaide, in January 2020 - just weeks before the COVID-19 pandemic hit Australia. Despite lockdowns, social distancing and other COVID concerns, Makerspace Adelaide has attracted more than 1000 people to use its facilities in the two years since.
This community fabrication workshop provides members with affordable access to a range of tools and equipment and volunteers who help members learn how to use them safely. A strong focus on sustainability includes a textile reuse program to transform old clothing into new items or turning old plastic into 3D filament.
Makerspace Adelaide Operations Manager Laura Gransbury said the volunteer-run organisation had to leave its current premises because it could not afford to pay commercial rent. "Despite strong community support, we've been unable to thread that cashflow needle, so we need to move at the end of March," she said.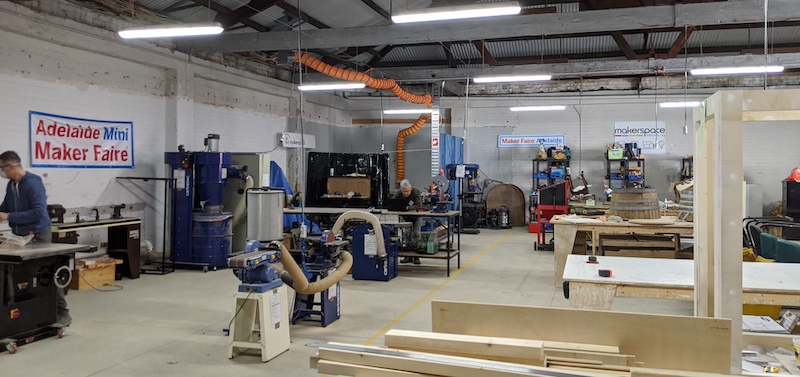 Inside Makerspace AdelaideMakerspace Adelaide, which is open from 10am from Thursday through to Sunday each week, has about 90 annual members, although many more people access its facilities on a daily or monthly basis. Members range in age from teenagers to people in their 80s.
The Save Our Makerspace auction will help fund the centre's current expenses as well as moving to new, yet-to-be-identified premises. As well as individually packed nibbles, the COVID-safe event will feature volunteers demonstrating various pieces of equipment. If people want to support Makerspace Adelaide without attending the auction, they can contribute through a $20,000 fundraising campaign on Chuffed,
Laura said Makerspace Adelaide had suffered enormously due to the pandemic. "Our first two months were huge, until the pandemic hit Australia and then we had the lockdown in March 2020," she said.
"Our membership is mostly lower-income earners such as people on the NDIS, and students or people trying to start up their own small business, and we also have a large LGBTIQA+ community. However, each time we started to build momentum, we would get hit by COVID-related closures that cost us important revenues as events like school excursions got cancelled.
"We hope to stay in the CBD, but we need to find a suitable space with suitable rent. We have survived the pandemic but want this auction to help us jumpstart Makerspace into the next stage of its life, so more people can benefit from affordable access to the tools and knowledge to build their skills."
For media assistance, email John Harris at john@impress.com.au
Makerspace Adelaide https://makerspaceadelaide.org
Makerspace Adelaide is a community fabrication workshop providing affordable access to a variety of tools and equipment - from laser cutters and sewing machines to 3D printers and traditional hand tools. Along with access to tools, volunteers help members learn how to safely use the tools and equipment. Makerspace Adelaide is 'spiritual home' for the Adelaide maker community providing a focal point for a diverse community of makers, making and innovation. Makerspace Adelaide brings together a vibrant mix of makers, hackers, creative groups and individuals to make, create, teach, learn and collaborate.
Related News
How to work out the Pyschology of Love

Two leading Adelaide relationship therapists, Giusi Silvestri and Gordon Wagner, this week team up to deliver an innovative program in which couples can learn about the Psychology ...
Marcelo catches business bug in Australia

Brazilian entrepreneur Marcelo Salviati, who migrated to Adelaide last year, has launched an Australian business to import products including a nifty electric bug-catching de...