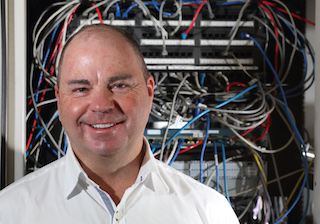 A National Science Week event in the remote SA community of Arkaroola today will use a MIMP microwave wireless network to showcase the value of telehealth for regional Australia.
Run by Dr Paul Gardner-Stephen of Flinders University, the interactive event has invited locals to have their blood pressure taken in Arkaroola and reviewed by a health professional 700km away in Adelaide, demonstrating the ease and convenience of telehealth.
Connecting the patient and doctor will be a microwave wireless network deployed by Adelaide-based wireless specialist MIMP Connecting Solutions to serve a mine in the Northern Flinders Ranges in 2012. At its own expense, MIMP extended that network to reach Arkaroola in 2013, with plans to expand it to Nepabunna and other local communities. The telehealth event will be held at the Arkaroola Visitor Centre from 11am to 12.45pm on Wednesday, August 19, 2015.
Dr. Gardner-Stephen, a Senior Lecturer & Research Fellow (Rural, Remote and Humanitarian Telecommunications) at Flinders University, said the event aimed to show locals how telehealth could help improve the prosperity, viability and wellbeing of remote communities. "We'll have electronic health equipment at Arkaroola to take measurements, but those results will be looked at by a health professional back in Adelaide," he said.
"Our aim is to show locals what can be achieved via telehealth with existing infrastructure to address the pressing problem for people in remote areas of access to health services for routine diagnosis. By showing them how easy and effective it is to use the service, we hope they'll engage with the concept and embrace it locally.
"As well as a grant from the National Science Week SA Committee to hold this event, it's fantastic to have partners like MIMP who share our vision for helping these remote areas."
Arkaroola Wilderness Sanctuary owner Marg Sprigg describes the telehealth event as a fantastic initiative for her community. "Our nearest doctor is 140km away at Leigh Creek, which is shutting down in November," she said.
"After that, the nearest A&E hospital is 400km away in Port Augusta, so having access to a telehealth service could mean the difference between life and death. This telehealth workshop, using the MIMP network, is showing us the way of the future, making sure we have immediate access to diagnostic advice while we wait for the Flying Doctor to arrive."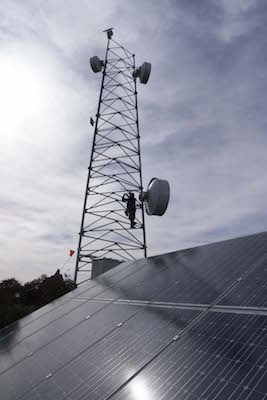 In 2012, MIMP deployed a 20-megabit per second (Mb/s), full-duplex Internet connection between Adelaide and the mine. After a geographic survey, MIMP deployed its 187-km-long microwave wireless network using three towers to connect Wilpena Pound with the mine.
As well as technical planning, MIMP undertook detailed consultation with the Department of Environment and Natural Resources and the local Aboriginal community to ensure the required civil engineering work protected the environment and respected cultural heritage values.
After the mine network was successfully commissioned, MIMP upgraded the network to 30 Mb/s in 2013 so that it could link in the 610 square km Arkaroola Wilderness Sanctuary, a location with notoriously poor communication. Employing as many as 35 people at the peak of the season, the sanctuary is visited by more than 75,000 people each year.
Since MIMP deployed its network, Arkaroola residents and visitors have enjoyed broadband speeds faster than in the city, for email, social media and skyping friends and families. It also allowed Arkaroola to use Internet banking for the first time.
MIMP CEO Allan Aitchison said the company had connected up Arkaroola as part of its corporate social responsibility. "We used to visit Arkaroola all the time and the Spriggs would complain that they could not get the Internet, so I said 'we'll see about that'," he said.
"It's awesome to see Paul and his team showing locals how to take our network to the next level by using telehealth to access a professional diagnosis without having to drive for hours."
About MIMP www.mimp.com
MIMP Connecting Solutions is an Australian-owned company that supplies, installs and supports high-capacity wide-band communications for the competitive business market. Established in 1985, MIMP has delivered digital transmission systems for customers nationally, in locations from metropolitan areas to the remote outback. MIMP clients include state and local governments, education
Related News
Warrawong wireless network wins award for MIMP

Australian network specialist MIMP has won another prestigious industry award, this time for a wireless network between two Adelaide zoos that will pay for itself within a year thr...