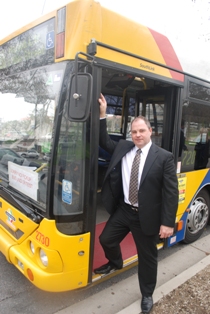 Australia's first Internet-enabled bus and a wireless network that's making Darwin streets safer have delivered a hat trick of awards to Adelaide-based networking leader MIMP in the annual NECA awards.

The South Australian finals of the National Electrical and Communications Association (NECA) awards, announced last Friday evening, acknowledged MIMP with a Perpetual Award as well as gongs for the i-Commute Internet-enabled bus and the Darwin Street Cameras multicast mesh wireless network.

MIMP General Manager Allan Aitchison said the three awards were a great recognition of two outstanding projects. "The i-Commute bus has attracted interest from all around Australia," he said.
"Already a second Internet-equipped bus is running on Adelaide roads while a similar trial has been completed in Perth. Each bus includes a real-time passenger information system and real-time security as well as free filtered Web access and free gaming programs for passengers.

"The Darwin Street Camera project is making the streets of Darwin safer by using our self-healing multicast mesh wireless network to transmit video data from 109 cameras on the streets of Darwin for real-time monitoring and storage at police stations.

"In both projects, MIMP has succeeded because the organisations we worked with, Department for Transport, Energy and Infrastructure in SA and the NT Police, were willing to back our innovative approaches to solve their business problems. So this is very much a shared success."

At the NECA Awards, the i-Commute bus project won the award for a Voice and Data Communications installation that cost less than $500,000. The Darwin Street Camera wireless network project collected the award for a Voice and Data Communications installation that cost more than $500,000.

MIMP won the Perpetual Award for its success with the Darwin Street Camera project, which was chosen by NECA's nine judges as the most outstanding project across all seven categories in 2010.
MIMP will now represent SA in the national NECA awards in November.
Launched in August last year, the first i-Commute bus contains an advanced GPS-based real-time Passenger Information System supplied by transSpot™ Ltd from Israel. Major benefits of the i-Commute system include live access to transSpot™ transport information, real-time security and location-specific advertising that can assist to fund the system.
i-Commute displays the distance to forthcoming bus stops. As the bus approaches a stop, two LCD screens display information about the location and any local business advertising for that stop.
Passengers on the i-Commute bus can also use WiFi-equipped devices to access the Internet for free. Real-time security is provided by an on-board camera which transmits information to a control centre where staff can monitor any incidents and contact police if necessary. The system cost nearly $500,000 to develop over a period of 18 months.
About MIMP www.mimp.com
MIMP connecting solutions is an Australian owned company whose total business focus is the supply, installation and support of high capacity wideband digital transmission systems in the competitive business communications market. Established in June 1985, MIMP connecting solutions has provided and installed the transSpot™ passenger information system. Key clients included State and Local Governments, Education, Health, Defence, and large corporations.
For media assistance, call John Harris at Impress Media Australia on 08 8431 4000 or email jharris@impress.com.au
Related News
MIMP appoints first wireless construction boss

Australian wireless network specialist MIMP connecting solutions has appointed Ian Grivell as manager of its new Wireless Construction Division to build communications towers at re...