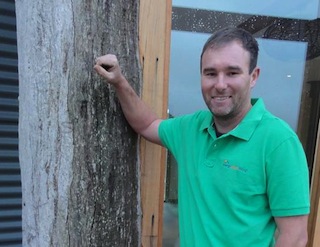 Environmentally conscious South Australian builder Danny Pauley has won the only individual award in a national competition for excellence in green building design and construction.
Presented by the Housing Industry Association (HIA) this month, the GreenSmart Professional award acknowledges Danny for the success of his building business Energy Aspect Living during the past five years. Set up in 2007 by Danny and his wife Donna Bartsch, Energy Aspect Living reviews environmental considerations with every client to ensure the best outcomes for both the client and the environment.
The HIA GreenSmart Awards recognise industry members who build or design environmentally-friendly homes, find solutions for water and resource efficiency or create new products for the building industry.
Danny Pauley said he and Donna had started Energy Aspect Living out of frustration at the limited choice of environmentally-sensitive building designs, and builders who carried this through to construction. "Our approach came from the way we would want our own house built, " he said.
"Although we recognised early on there had to be a better way to build homes that showed respect for the environment, not many other companies were offering that sort of service.
"It's about an understanding of how to design and place a home with the right aspect to work with nature and to take care during construction, with quality materials, to help a house perform well in the longer term."
Danny said the market reception of his Woodside-based business had been good. "There's an increasing awareness now of taking into consideration environmental factors in designing and building," he said.
"People are specifically looking for that and are prepared to pay an initial premium for a longer-term benefit. The good news is that payback can be much quicker than expected. Generally, our customers find the savings delivered by an environmentally sensitive design have exceeded their expectations. Another surprise they tell us about is how comfortable their house is in all seasons."
Danny said the most important aspect of winning the GreenSmart Professional Award was it amplified the message that Energy Aspect Living communicated. "Our business is about education and awareness rather than just building houses," he said.
"This award is a national recognition that we are succeeding with that education process."
For more about Energy Aspect Living, visit http://www.energyaspectliving.com.au
For media assistance, call John Harris on 08 8431 4000 or email john@impress.com.au.
Related News
SA 'green' builder skips waste on site

Environmentally-conscious SA builder Energy Aspect Living has designed its construction processes to eliminate building site waste and avoid the need for on-site skips. At a time ...
Footy finals reveal butt-ugly facts

Q: What if… at this weekend's AFL & NRL Grand Finals the fields were covered with one year's worth of cigarette butt litter? A: The Swans & Hawks would be batt...
Green builder unveils Zero Carbon Home design

Aspect Living today unveils its innovative design for an affordable, environmentally-friendly home in SA's pioneering Zero Carbon Challenge. Woodside-based Energy Aspect Living ...