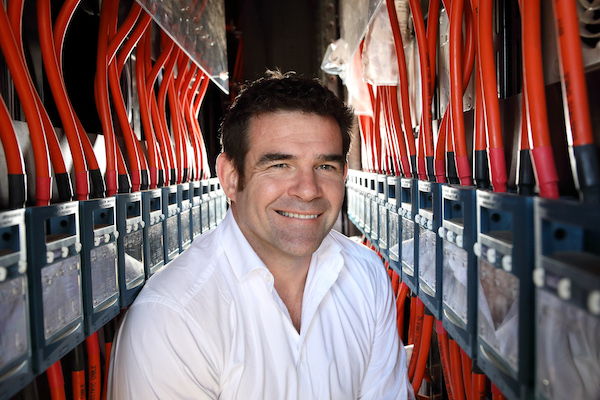 Redflow CEO Tim HarrisAustralian energy storage company Redflow Limited (ASX: RFX) today has announced an order to provide six ZBM2 zinc-bromine flow batteries for energy storage at an Optus mobile phone tower in the environmentally sensitive Daintree rainforest.
The Redflow ZBM2 batteries will store and supply 60 kilowatt-hours (kWh) of energy for the Optus mobile phone tower at Alexandra Range, in the Cape Tribulation section of the Daintree rainforest, a remote headland and ecotourism destination in Far North Queensland. Situated 1500km north of Brisbane, the Daintree National Park became a World Heritage Site in 1988.
Optus selected Redflow's ZBM2 batteries for deployment at their Cape Tribulation site because of the batteries' sustained energy storage capacity, tolerance of warm temperatures, remote management capability and environmentally-friendly design.
Redflow's ZBM2 is a scalable 10 kilowatt-hour (kWh) zinc-bromine flow battery that can deliver 100 per cent depth of discharge each day for its warranted 10 years. The ZBM2 works in warm climates without external cooling, with its performance, safety and operational lifetime unaffected by ambient temperatures as hot as 50 degrees Celsius (122°F). Made from easily recycled or reused materials, the battery contains a zinc bromide electrolyte solution that can be cleaned and re-used after its operating life.
Redflow CEO Tim Harris said the Optus decision further demonstrated the value proposition that ZBM2 zinc-bromine flow batteries delivered to enterprise customers including telecommunications companies. "Our batteries thrive on heat and hard work and are not prone to thermal runaway like other battery chemistries. This Optus deployment, along with Hitech's use of ZBM2 batteries for its digital television network rollout in Fiji, demonstrates how Redflow is establishing its credentials in the telecoms sector."
For media assistance, call John Harris on +61 8 8431 4000 or email john@impress.com.au. To download high-resolution images, please visit the Redflow photo gallery.
About Redflow www.redflow.com
Redflow Limited, a publicly-listed Australian company (ASX: RFX), produces small 10kWh zinc-bromine flow batteries that tolerate daily hard work in harsh conditions. Marketed as ZCell and ZBM2, Redflow batteries are designed for high cycle-rate, long time-base stationary energy storage applications in the residential, commercial & industrial and telecommunications sectors, and are scalable from a single battery installation through to grid-scale deployments. Redflow batteries are sold, installed and maintained by an international network of energy system integrators. Redflow's smart, self-protecting batteries offer unique advantages including secure remote management, 100 per cent daily depth of discharge, tolerance of high ambient temperatures, a simple recycling path, no propensity for thermal runaway and sustained energy delivery throughout their operating life.