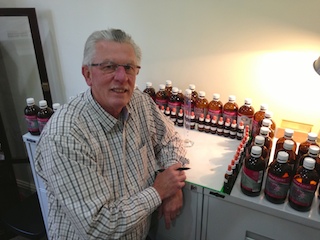 Widely respected professional herbalist and iridologist Rob Elliott, who has recorded more than 20,000 patient visits in Adelaide, has expanded his reach by launching a consulting practice in Victor Harbor.
Under the banner of Western Herbal Medicine & Iridology, Rob will meet with patients at the Victor Podiatry Centre, located at 10 Seaview Road, Victor Harbor.
"Our body has amazing powers of recovery, but sometimes it needs a little help," said Rob, a futures trader who turned his back on high-flying finance two decades ago to study herbal medicine.
"Herbal Medicine works! It successfully treats many diseases and illnesses while iridology is a very accurate diagnostic indicator. It was after I experienced the benefits of herbal medicine personally back in the 90s that I left the finance industry and began to study and work in this area."
Rob graduated with a Diploma with distinction in Herbal Medicine from the Dorothy Hall College of Herbal Medicine in October 1999. This study included modules in anatomy and physiology, biology, chemistry, biochemistry and diagnostics.
Rob went on to obtain a Bachelor's degree in Health Science from Victoria University in 2003, with modules including pharmacology, research methods, medical ethics and law.
Since launching his herbal medicine practice in Adelaide in the year 2000, Rob Elliott has conducted more than 20,000 patient visits, proving that herbal remedies are effective and safe in helping people return to good health. He has also lectured at professional development classes in herbal medicine and personally mentored many young practitioners in the field.
Rob Elliott said his new practice aimed to offer the benefits of herbal medicine to people in Victor Harbor. "Herbal medicine looks to fix the underlying causes of illness and disease," he explained.
"It provides improvement over time which is usually easier to sustain in the long term. It does take longer to provide optimum benefit, but noticeable change is discerned early on.
"Herbal medicine is based on fact and evidence acquired over many centuries. A qualified herbalist tailors a liquid tonic for each patient, selecting from around 400 different herbal extracts and flower tinctures at his or her disposal.
"In recent years, I've made a number of professional visits to country towns around SA where I've been able to meet the demand for people seeking for a herbal alternative to help improve their health. I believe Victor Harbor is a great location because it has many residents who are looking for non-invasive methods to maintain and improve their health over the long term."
For more information about Western Herbal Medicine & Iridology, call Rob Elliott on 0439 990 327 or email rob@elliottherbalhealth.com.au
Related News
Robyn's way to less stress au naturel

Adelaide-based marketer Robyn Lee has launched a new business that aims to show people how to beat the negative effects of stress through education and knowledge. Called Evolving ...