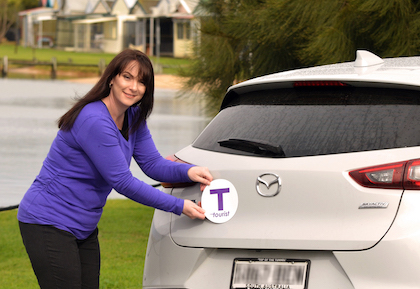 T for Tourist plates founder Jacqui CoatesA fatal car crash that deprived a family of its mother planted the seed of an idea for a road safety awareness initiative that aims to cut the number of accidents involving tourists visiting Australia.
In February 2011, Strathalbyn mother-of-five Jayne Guttilla was killed in a head-on collision by an Italian tourist driving his car on the wrong side of the road. It was the second South Australian road fatality in a year caused by an international tourist driving on the right-hand side of the road.
Since then, Jacqui Coates and Trish Crosby of Milang have developed the T for Tourist plates program to place identifying plates on tourists' cars to show they are unfamiliar with local roads.
Jayne Guttilla's now 26-year-old son, Josh, who lives with three younger brothers, strongly supports the T for Tourist plate program. "I think it's a great idea," he said.
"We have so many restrictions on our licences when you learn to drive, but people from overseas just jump behind the wheel of a car at the airport and take off with no training.
"These plates let other drivers on the road know that this driver may not be completely aware of Australian road rules or conditions, so they can be wary and keep their distance on the road.
"It might not have made a difference for my mother because her accident occurred at night on a corner, so she couldn't see the car coming, but there are so many accidents involving tourists, that any extra awareness on the road would be beneficial and hopefully lower the rate of accidents."
The T for Tourist program, which has cost more than $30,000 to develop, has already launched in Australia. Held in place by magnetism, electrostatic grip or suction cups, the lightweight T for Tourist plates can be bought online at www.tfortourist.com.au or through retailers at Goolwa or Strathalbyn and from tourist information centres throughout the Fleurieu Peninsula.
Jacqui Coates said the whole community had grieved after Jayne's death. "It planted the seed for an idea that we've worked on for the past two years," she said.
"While on a driving holiday in Tasmania, we talked about how there are L plates for Learners and P plates for Probationary drivers, so we came up with the idea of T plates for tourists.
"When we got home and started researching it, not only did we find nothing else like it around, but that the problem was much bigger than we'd imagined. In Australia, one in 10 of all motor vehicle accidents involve tourists while in New Zealand that rate is one in six!
"With millions of tourists visiting Australia and New Zealand each year, of whom 20 per cent hire cars, this is a really big problem. It's up to tourists to put these plates on their cars, so we want to get the word out so people can tell them about it.
"Our ultimate goal is to help make roads safer for everyone to drive on. If we can just help save just one life, then this is all worthwhile."
For media assistance:
To request photos or interviews, call John Harris on +61 414 789 995 or email john@impress.com.au.
For more information about the T for Tourist plates program, visit www.tfortourist.com.au.
Related News
SA 'green' builder skips waste on site

Environmentally-conscious SA builder Energy Aspect Living has designed its construction processes to eliminate building site waste and avoid the need for on-site skips. At a time ...