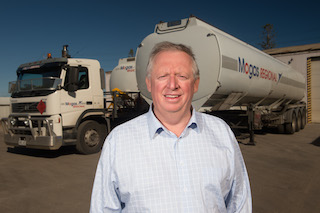 With little fuss, but much entrepreneurial zeal, Greg Patten, the man behind a largely unknown family company he built from scratch is showing how business can thrive in the South Australian economy.
Greg was a nominee and finalist for the Central Region in the 2014 Ernst & Young Entrepreneur of the Year Awards, announced last week in Adelaide.
Hardly a household name, Greg's quiet style has nevertheless seen his Mogas fuel brand achieve "major player" status in the highly competitive fuel supply industry, while simultaneously developing innovative, leading-edge technologies to manage and expand their business operations across a surprising, diverse field.
While almost the reluctant businessman – Greg started his career in agricultural research and engineering and went on to obtain post-graduate qualifications in these fields – the successes of his company are becoming clearly apparent following the EY Awards this year.
Since being established in a $100 investment partnership with wife Carol, 35 years ago, the privately-owned family company now has diversified commercial interests ranging from international management consulting and publishing through to petrol retailing and storage, software development and primary production.
The Mogas brand was founded in 1995 when a commercial arrangement with a major oil company was undertaken to allow for increased wholesale distribution of fuel in SA.
Today the Mogas Group enjoys a substantial and growing share of the wholesale fuel supply market in SA, with depots throughout the state serving the mining, marine, primary production and earth-moving industries. Mogas also covers large sections of outback Northern Territory and WA with further expansion plans into other interstate markets well advanced. Last year Mogas purchased a fuel company on Kangaroo Island and on 1st August it opens a new office and warehouse in Mount Gambier.
A key milestone in the company's history was marked earlier this year when the retail fuel division opened its 100th Mogas branded service station outlet – at Semaphore. The company this month decided to rebuild its fully owned Truro site as a new retail facility to service both the local community and highway trade, to be completed mid 2015.
Greg, a self-confessed researcher-turned-businessman who is Chairman of the Mogas Group, says 2014 is a year of major milestones for their company.
"The steady expansion of the Mogas network over the past few years means that people are seeing more and more of our brand in the country and the city," Mr Patten said.
"When the Mogas name is recognised alongside the likes of the oil majors, it is most gratifying. We take great pride in the fact that we could find the opportunities and manage the growth from our base here in SA."
"A real difference with our business is the personal contact with clients out in the field, delivering direct with our own fleet of tankers to minimise lead times and handling costs, which is something our clients want and respect," Mr Patten said.
Independent discount fuel system builds big savings for motorists
Another important business development area for the Mogas Group has been its EasyFuel discounting system. Running with cutting-edge, in-house developed smart-card technology, EasyFuel operates to provide motorists with compounding petrol discounts by shopping at a range of completely independent shops and businesses around the State. According to Mr Patten, EasyFuel is good for the community and good for open competition.
"Our EasyFuel system is a wonderful way for local, independent businesses and service stations to compete with the giant supermarket chains," Mr Patten said. "Stores get to reward their loyal customers and shoppers get better choice and, of course, cheaper petrol."
"Due to recent massive demand for our Easyfuel system from independent merchants and shoppers alike, we are going national from 1st August. We have also opened up Easyfuel to other independently branded service stations, to provide shoppers with greater flexibility when redeeming their accumulated fuel discounts," Mr Patten said.
The business potential of the EasyFuel technology is evidenced by the international trademark approvals that have just been granted in a number of overseas' markets, including the US, all countries in the EU, Singapore and China.
Company Websites: www.mogasregional.com.au
For any further information on this release, please contact:
Greg Patten, Mogas Group; 0418 831 997; greg.patten@mogasgroup.com.au
For media enquiries all hours:
Mike O'Reilly, 0414 882 505, mike@oreillyconsulting.com (call for hi-res photos)
Alan Rosewarne, ARMC; 0417 809 362; alan@suitforhire.com
Related News
Poets see the light at church

A conga line of poets who have seen the light at Norwood's St Bart's Church will share their inspiration in a public poetry reading on Saturday November 10. Lit by St. Bart's reno...
Simon Hackett appointed to NBN Co board

As part of the Government's continuing National Broadband Network reforms, Internode founder Simon Hackett was one of three directors with extensive relevant industry experience wh...
Green buildings pay off for Danny

Environmentally conscious South Australian builder Danny Pauley has won the only individual award in a national competition for excellence in green building design and construction...