The United Nations Association of Australia has launched its Media Awards for 2014 with a call for journalists in make their nominations before September 1, 2014.
As a non-profit, non-governmental community organisation, UNAA has published its 'Call for Nominations' flyer (see below) to raise the profile of the awards and attract more nominations.
The Media Awards is a prestigious national awards program that recognises those journalists, producers and editors, who seek to promote understanding and awareness about humanitarian and social justice issues in our society and stimulate public debate.
The deadline for nomination is September 1, 2014. Full details are at www.unaavictoria.org.au.
For more information about the awards, contact United Nations Association of Australia (Victorian Division) Communications Officer Maja Ristovska on 03 9670 7878. or email communications@unaavictoria.org.au.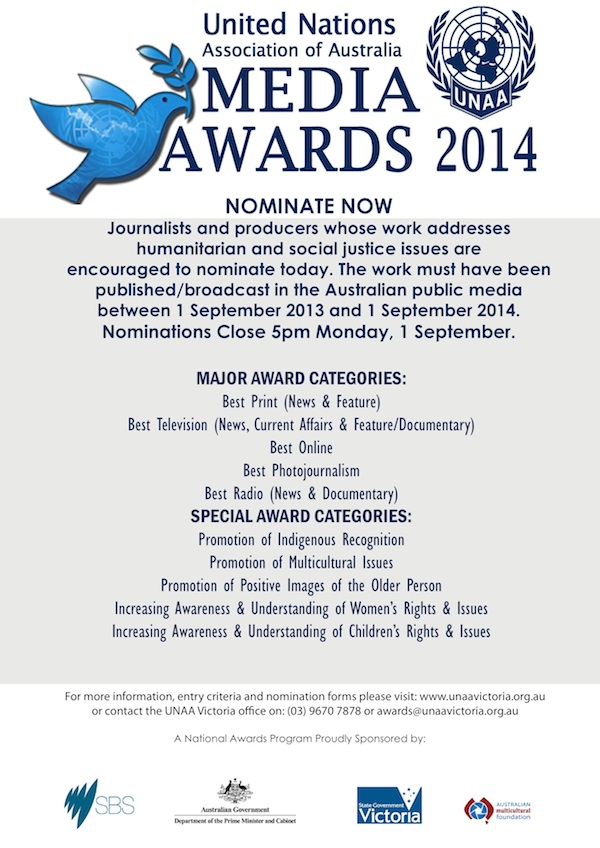 Related News
Green builder unveils Zero Carbon Home design

Aspect Living today unveils its innovative design for an affordable, environmentally-friendly home in SA's pioneering Zero Carbon Challenge. Woodside-based Energy Aspect Living ...
Alan Greig trades in keyboard for corkscrew

After running some of SA's most successful software companies, IT entrepreneur Alan Greig has headed for the hills with his wife Jane Mitchell to run a restaurant in one of SA's ol...