Innovation
Impress Media Australia works with a range of innovative Australian companies and individuals. Please read the stories below for details.
Details

In Innovation

/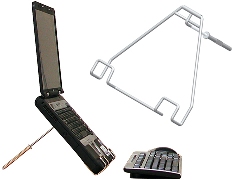 The SA Government will offer thousands of its employees the chance to buy iholder, an innovative lightweight device that turns a notebook computer into a desktop unit for just $54.95.
Designed by South Australian entrepreneur Michael Zerman and industrial designer Michael Youds, the iholder portable computer stand addresses an increasing global OH&S concern about potential musculo-skeletal effects caused by long-term use of laptop computers.
Iholder's first channel to market is Supply SA, part of Contract Services, a business unit within the Department for Administrative and Information Services (DAIS) in the South Australian Government. Supply SA delivers a range of stationery, hospital and general products to government agencies, benevolent organisations, schools and hospitals in South Australia and the Northern Territory.