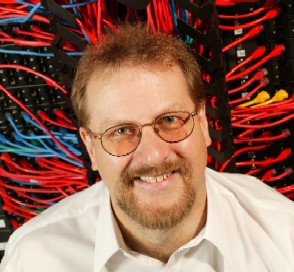 At last, 2010 is the year of Internet Protocol Television (IPTV) for Australia – due to the convergence of on-demand video content and fast network access.
After years of threatening to arrive, IPTV is now an inevitable event with many players lining up to give Foxtel a run for its money with broadband-based alternatives. Consumers will win due to increased commercial access to legal, Video on Demand (VoD) content in Australia.
IPTV will be at the forefront of a wave of bandwidth-intensive applications made possible by the elimination of glacial 256 kilobit per second plans and the diminishing role of 512k ADSL plans in the market.
Most new plans now offer 1.5 megabits per second (Mb/s) speeds as a minimum, and often deliver full-tilt ADSL2+ speeds. There is a new baseline at 1.5 Mb/s developing, and this will strongly underpin IP Television services delivery, for which this is the lowest really viable speed.
IPTV delivers digital television using Internet Protocol (IP) networking rather than through radio frequency, satellite signals or cable. There are three main types of IPTV content:
1. "Real time" channels delivered over IP Multicast, that 'look' like cable TV but delivered using Internet technology;
2. Time-shifted content, that can be either (a) recorded by the IP Set Top Box for later viewing (like a traditional PVR) programming and/or (b) proactively trickle-fed to the Set Top Box for later viewing – (Push VoD) - and
3. On-demand unicast video streaming (Traditional VoD).
The emergence of real video offerings delivered over fixed broadband connections from a variety of providers will separate multi-service telecommunication companies from single-service Internet, voice, or TV providers. More and more, it'll be about one-stop shopping for a mix of communication and entertainment services.
IPTV will begin to succeed over the next couple of years because it provides consumers with greater choice and the potential for greater convenience in their consumption of digital media.
Asia is proving a fertile ground for IPTV innovation, driven by high population densities, fast increasing middle classes and rapid uptake of Internet technology. Once the fast networks are in place, especially with fibre-optic based customer networks, the barriers to entry in IPTV are quite low.
During the past couple of years, toddler TV has boomed in Asia, with specialist channels designed for pre-schoolers or transmitting in English (where parents want their youngsters to learn English). As well as encouraging locally produced programming, IPTV is providing a new content distribution platform, especially in markets such as Korea.
As a result, uptake is growing strongly. In Singapore, SingTel added 29,000 subscribers to its mio TV IPTV service in the last quarter of 2009, giving it a total of 155,000 customers.
Already, Australia can see the start of this innovation wave with services such as the CASPA on-demand download service on the TiVo platform, but it is still early days. As the range of IPTV-class services increases, this will deliver the double benefit of both driving innovation of new offerings and keeping prices affordable. The net effect will be more choice at good prices.
The major challenge to this process is not a technical one – it's the question of how fast Hollywood is prepared to re-invent itself as an industry that embraces on-demand digital delivery at the point of initial movie release, not six or 12 months later. This intentional delay – the 'release window' problem – is one that the Internet industry can't solve: It's up to Hollywood to fix its own problem.
Once that happens, and the size of the on-demand digital libraries we can offer can finally eclipse that of the local video store, then 'everything changes' (and fast).
Already Personal Video Recorders (PVRs), which record free-to-air content digitally, are evolving into IPTV devices. In other words, the lines are rapidly blurring (and this is a good thing).
The TiVo Media Device we sell to our customers today is a great example of this. It's a brilliant PVR - in my view the best in the market - but it's now also an on-demand video delivery platform and it has the capacity to evolve again in the future to being a linear channel IPTV device as well. Those changes require only software updates, not hardware ones.
So IPTV will drive further PVR sales, but what you call a PVR today will also evolve to become a more general digital media box tomorrow.
Greater choice means tougher competition for all service providers. For a sector that long struggled to achieve profitability in Australia, cable TV companies who maintain private distribution networks will need to innovate further to deliver value to subscribers whereas IPTV providers – who share their content distribution network infrastructure – can provide both great content choice and competitive pricing.
Internode is pursuing a multi-partner IPTV strategy. For the past year, Internode has worked with Australian TiVo licensee Hybrid TV Services to extend TiVo's penetration of the Australian market. This includes both selling TiVo media devices and providing unmetered access to TiVo download content for Internode customers. Late last year, Internode announced it is also working with IPTV innovator FetchTV toward an Internode IPTV offering powered by Fetch technology.
Internode has built a powerful content distribution network (CDN) service based on its extensive national and international IPv6-enabled network. We will partner with other IPTV companies where such collaborations can deliver additional value for both Internode and for our customers.

Simon Hackett was a pioneer of the Internet in Australia, helping to build the original AARNet network for universities before founding Internode in 1991. Internode is a first tier IP carrier and broadband services provider, committed to using broadband to redefine the national telecommunications environment.
Related News
Today's IT security needs tools not gurus

How to secure the enterprise with Least Privilege By Centrify Asia-Pacific Regional Director Matt Ramsay It's time we took a fresh look at the core problems bedevilling our enter...
The real issues about high speed broadband

Simon Hackett offers is a short, high level, view of the issues in Australia at this time, the ones that he feels actually matter, in the ongoing 'debate' (more like 'media shoutin...