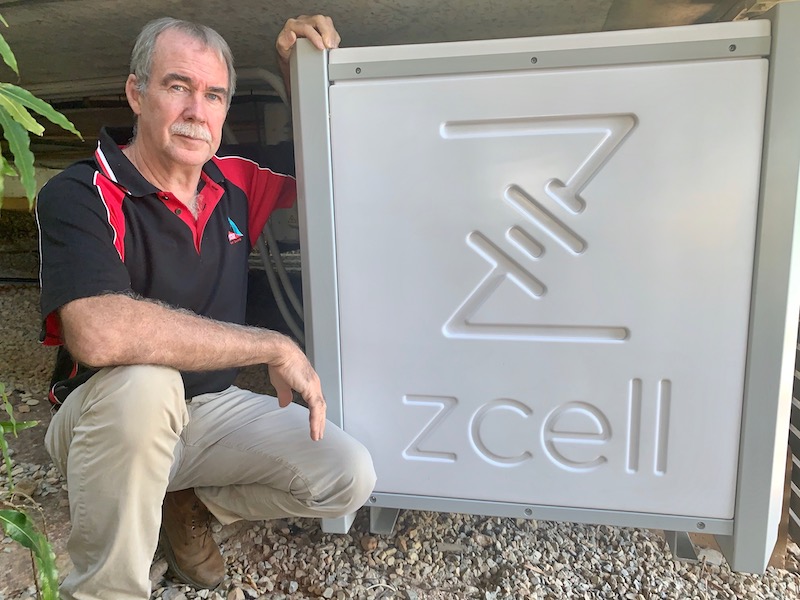 Delta Electrics General Manager Andrew Boller with a Redflow ZCell batteryRedflow's latest partner, Darwin-based Delta Electrics, believes that zinc-bromine flow batteries are ideally suited to deliver energy storage in the hot, demanding conditions of the Top End.
Founded in 1969, Delta Electrics is a leading supplier of power-related products and services to some of the largest organisations operating in the Northern Territory including Power Water, Territory Generation, the Australian Department of Defence, Telstra, McArthur River Mining/Xstrata and Energy Resources Australia. Delta's client base spans an extensive range of industry sectors such as telecommunications, power utilities, agriculture, local councils and remote Aboriginal communities.
Delta Electrics General Manager Andrew Boller said the Northern Territory was increasingly seeking the benefits of new-generation batteries. "With years of experience with batteries, Delta Electrics understands the challenges and limitations of working with lithium-based battery chemistries within the NT: Unless they are installed in an air-conditioned environment. the operating temperatures of lithium batteries are always in the high 30s or more, which can significantly impact their life," he said.
"Redflow zinc-bromine flow batteries are the ideal energy storage technology for the NT due to their ability to operate in harsh conditions and in warmer temperatures without cooling.
"We see Redflow as a prime partner going forward in the area of off-grid and battery-smoothing projects of less than one megawatt-hour (mWh) with the current technology easily available to support up to these levels. We have many opportunities in the 200-600 kilowatt-hour (kWh) range in the pipeline and several in the sub-100kWh range that are also ideally suited to Redflow."
Delta Electrics undertook a detailed evaluation of Redflow batteries to identify that Redflow's zinc-bromine flow battery technology offered many benefits for the NT market compared to lithium technology. These benefits include greater safety, operating at higher ambient temperatures and the ability to utilise 100 per cent of the battery's storage capacity without impacting its operating life.
To highlight the strong potential for Redflow batteries, Delta Electrics has installed a 20kWh, two-ZCell battery demonstration system that can showcase the benefits of zinc-bromine battery technology to its customers. This live system also enables Delta Electrics to develop hands-on-experience and an in-depth understanding of the operation, capabilities and commissioning of a Redflow energy storage solution that will equip it to promote the technology more effectively.
"Given our initial testing with Redflow, we feel confident in the technology and our ability to develop integrated solutions," said Andrew Boller. "The Redflow Battery Management System (BMS) is well designed and allows us to easily integrate the batteries into systems to deliver controllable and scalable solutions," he said. "Our ability to remotely support these batteries is a real benefit in the NT."
Redflow CEO Tim Harris said Delta Electrics completes Redflow's coverage of all Australian states and territories. "Andrew has a wealth of knowledge and strong established relationships in the NT," he said. "Delta Electrics is a successful business with the strong expertise and capabilities that will allow Redflow to explore a number of current opportunities and build a strong presence within the NT."
For full details of Redflow's Australian partners, please visit https://redflow.com/system-integrators/australian-partners/. For media assistance, call John Harris on 08 8431 4000 or email john@impress.com.au.
About Redflow
Redflow Limited, a publicly listed Australian company (ASX: RFX). Redflow produces small 10kWh zinc-bromine flow batteries that tolerate daily hard work in harsh conditions. Marketed as ZCell and ZBM2, Redflow batteries are designed for high cycle-rate, long time-base stationary energy storage applications in the residential, commercial & industrial and telecommunications sectors, and are scalable from a single battery installation through to grid-scale deployments. Redflow batteries are sold, installed and maintained by an international network of energy system integrators. Redflow's smart, self-protecting batteries offer unique advantages including secure remote management, 100 per cent daily depth of discharge, tolerance of high ambient temperatures, a simple recycling path, no propensity for thermal runaway and sustained energy delivery throughout their operating life.
Related News
Redflow announces new CEO and COO

Simon HackettRedflow Limited (ASX:RFX) on Friday announced senior management changes as the company prepares for the first deliveries of ZCell residential flow batteries in Austral...