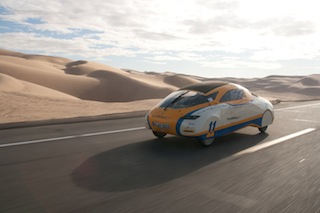 An award-winning solar car that has travelled more than 26,500kms around the globe is now heading from Darwin down the Stuart Highway to finish its global circumnavigation in Hahndorf, Adelaide.
In October 2011, this two-seater solar electric car, SolarWorld Gran Turismo (SolarWorld GT) competed in the World Solar Challenge from Darwin to Adelaide and won the Design Award. It then started its global circumnavigation from Adelaide to Sydney. The team then traversed New Zealand, the United States of America, Europe, Eurasia and Russia and is now again in Darwin to complete its adventure.
On Monday December 3, 2012, SolarWorld GT will leave Darwin on the final leg of this global circumnavigation. The team will celebrate the conclusion of its worldwide odyssey in Hahndorf, a German community in the Adelaide Hills, on Thursday, December 13.
To complete its circumnavigation, the self-sufficient solar electric car will drive more than 29,000kms by land. The last 3000kms of the trip from Darwin to Adelaide will now be driven. It is almost the same route that is driven by the World Solar Challenge every two years. When the circumnavigation is complete, the SolarWorld GT will seek a world record for the longest driven route by a solar car in the Guinness Book of World Records.
SolarWorld GT team member Mareike Bautsch said the two-seater demonstrated the performance suitability of lightweight vehicles with high energy efficiency. "It's powered by the same amount of energy required to run a hair dryer!" she explained. "Also, the steering can be easily altered between left and right hand driving to suit the country it is in."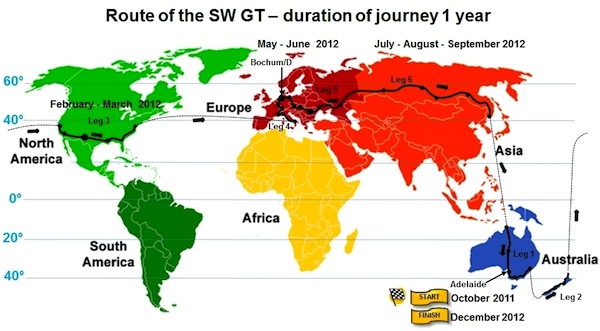 The Solar Car team considers itself as an ambassador for sustainable mobility, developed and built by young future engineers from North Rhine-Westphalia, who are presenting the trademark 'German Engineering' in an entirely new manner.
SolarWorld GT is the fifth solar car developed by the non-profit team of students from the University of Applied Sciences Bochum. In 1999 they started with a "table-tennis chariot" and have since aimed to build solar cars closer to everyday vehicles. All necessary work – planning, logistics and construction – is completed by students during their studies.
The car will aim to travel about 300-330km/day at speeds of 50-60km/hour, driving 6-7 hours/day, depending on weather conditions. The car can do a top speed of more than 100 km/hr
Date Happening
Mon 3 Dec

Start in Darwin
Fri 7 Dec

Arrival in Alice Springs*
Thu 13 Dec

Celebrations in Hahndorf
*The exact dates on the route depend on the weather conditions (solar radiation).
But the team will definitely be celebrating the finish of their global circumnavigation in Hahndorf, Adelaide on Thursday 13th December 2012.
After driving from Adelaide to Sydney, SolarWorld GT was featured on the ABC's 7pm News on Sat 5th Nov 2011:-
http://www.youtube.com/watch?v=iNZZlnSEukw&;feature=youtube_gdata_player
From the 2011 World Solar Challenge, the Northern Territory's ABC 7:30 Report from Fri Fri 14th October 2011 "Future Cars". SolarWorld GT is featured at 0:40, 2:14 & 6:01
http://www.abc.net.au/news/2011-10-14/future-cars/3572540
For further media information or interviews, please contact:
Media contact in Australia:
Mareike Bautsch Tel: +61 (0)487 429 603 mareike.bautsch@hs-bochum.de
Team leader:
Tim Skerra Tel.: (0)423 911 270 tim.skerra@hs-bochum.de
General media contact in Germany:
Stefan Spychalski Tel.: +49 (0)234 32 10740 solarcar@hs-bochum.de
http://www.hochschule-bochum.de/en/solarcar/circumnavigation.html
Related News
MidnightSun shines light on Pangamonium

Australia's newest publisher, MidnightSun Publishing, this week launches its second novel, Pangamonium, a witty critique of global capitalism by author Zanesh Catkin. In Pangamoni...
UNAA launches Media Awards for 2014

The United Nations Association of Australia has launched its Media Awards for 2014 with a call for journalists in make their nominations before September 1, 2014. As a no...
Domain claims SA dealer spot for Lanier-Ricoh

Adelaide printer specialist Domain Technologies has announced its appointment as a Lanier-Ricoh Authorised Copier Dealer for South Australia. Domain Technologies promotes itself a...