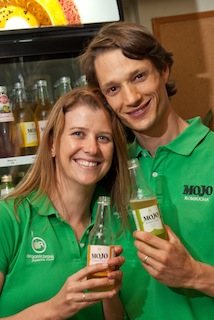 Australian health drink success and early NBN customer Organic and Raw is doubling the size of its Willunga factory to meet demand for its popular pro-biotic raw drink product, Mojo Kombucha.
With sales doubling every six months, Mojo Kombucha drinks are sold nationally through health food stores, although Organic and Raw will focus on sales through supermarkets and greengrocers once its factory expansion is complete.
Mojo Kombucha is a refreshing, effervescent and invigorating drink that is made through a unique fermentation process with an ancient lineage in East Asia. Although in Australia, kombucha was only a cottage industry until Organic and Raw started production in January 2011, the health drink is a fast-growing, multi-million-dollar segment of the booming functional drinks market in the US.
Organic and Raw director Anthony Crabb said the factory expansion was essential to cope with demand. "This facility here is completely maxed out," he said.
"We're more than doubling the size of our factory, currently 216 square metres in size, by adding another 271 square metres, which will include a fermentation room, chiller and bottling line. Once that expansion is complete, later this year, we will be able to quadruple production, which will take us to a whole new level."
Organic and Raw is a family-owned business run by Anthony Crabb and wife Sarah. Other investors in the venture include Anthony's father, Terry, the former owner of the award-winning business Aldinga Turkeys, and the family of Petra Heeg.
Although the concept of commercialising kombucha was inspired by its success in the US, the Mojo Kombucha product range, which currently has three flavours, was designed in Australia through close collaboration with microbiologists from SARDI (the South Australian Research and Development Institute).
Anthony said Organic and Raw took five years to take kombucha from concept to commercialisaiton. 'The challenge is that we were dealing with live cultures to design this product," he recalled.
"The microbiologist from SARDI worked with us to develop a product with high quality and consistency. The result is a healthy pro-biotic, organic, low-sugar and very tasty drink that has hit the spot with consumers."\
Mojo Kombucha is sold in 330ml bottles in three flavours: Original, Ginger Tonic and Lemon Citrus. Already more than 75 per cent of Mojo Kombucha sales are outside South Australia.
Once the factory expansion is complete, Organic and Raw plans to increase its production volumes to supply currently unmet demand and introduce new Mojo Kombucha flavours to appeal to customers at additonal retail outlets such as supermarkets and greengrocers.
NOTE TO EDITORS: ORGANIC AND RAW IS USING THE NBN
Willunga-based Organic and Raw is an early beneficiary of the National Broadband Network (NBN). "Our business wouldn't be the same without the NBN," explained Sarah. "Before, our Internet was quite slow and had dropouts. Now, for a price on par with our previous service, we're getting a faster, more reliable connection."
For more information about Mojo Kombucha, visit www.organicandraw.com.au
For media assistance or to request an interview, call John Harris at Impress Media Australia on 08 8431 4000 or email john@impress.com.au

Related News
Klaus points cycle to Canada to fight cancer

Executive Chairman of 1stAvailable.com.au, charity cyclist and cancer survivor Klaus Bartosch will this week travel halfway round the world to ride 260km in Canada's Enbridge Ride ...