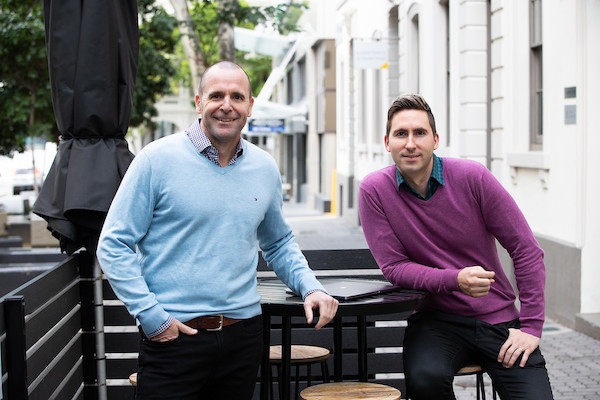 CitrusAd cofounders Nick Paech (left) and Brad Moran
Australian retailers have a "12-month window" to deliver retail media platforms that respond to how the pandemic has fundamentally reshaped customer behaviour warns CitrusAd CEO Brad Moran.
The explosion of online ordering driven by COVID-19 has seen digital retail media spending soar. In the US, retail media advertising expenditure hit US$31.49 billion during 2021 – a 53.4 per cent increase on 2020 – with a trajectory to top US$50 billion during 2023.
Mr Moran said many Australian retailers were failing to capitalise on this marketing megatrend because they lack the in-house expertise and experience to build a retail media advertising platform that could compete with Amazon, Google and Facebook. "They have a 12-month window to recognise and respond to how the pandemic has flipped the script for brand advertising in retail media," he said.
"Until 2019, traditional retailers saw website sales as an adjunct to their core business. The pandemic has made online sales central for retailers and brands as millions of customers started ordering from home due to lockdowns and social distancing. You can see this in how click prices in some categories now exceed the product cost because brands are understanding the broader influence of online shelf space: They are buying customer loyalty both online and in-store rather than just a single transaction."
Founded in Brisbane in 2017, CitrusAd provides a software as a service (SaaS) platform that turbocharges brand advertising delivery and website profitability for large Australian and global retailers, including Woolworths, Coles, Dan Murphy's, The Iconic, Sainsbury's, Target (USA) and Tesco. Bought by Publicis Groupe in July last year, CitrusAd generates more than half its business from the US and supports more than 70 major retailers across 28 countries and six industries.
The Australian Bureau of Statistics reports that Australia's seasonally adjusted online sales of $'3,734.2 million during November 2021 were more than 90 per cent above the $1940.4 million of February 2020 – the month before the pandemic hit Australia.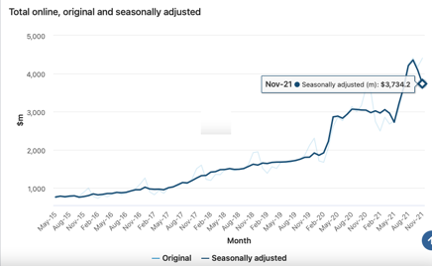 Riding this wave of online demand, CitrusAd has grown into a global company in just four years by transforming money-draining retailer websites into dynamic, profitable businesses. Its online auction engine accepts bids from brands that give their ads prime positions on a retailer's website, comparable to the "eye-line" shelf in a store. With more than 190 employees in Australia and internationally, CitrusAd is now rapidly expanding in Europe and the Asia-Pacific region.
A large omnichannel grocery retailer in Southeast Asia recently conducted a study across multiple product categories on the impact of using CitrusAd on online sales and in-store sales:
Four campaigns went live for just one week
Advertised products that won first row positions experienced an average 90 per cent lift in online sales plus an average 26.5 per cent increase in in-store sales during that week
After the campaigns were switched off, these products experienced an average 53 per cent drop in online sales and a 24.5 per cent decrease for in-store sales from the previous week.
Mr Moran said CitrusAd's consistent delivery of those sort of results demonstrated why retailer and brand investment into retail media would continue to grow in 2022. "Australian brands need to understand that if they win top position in retail media, they win in-store as well as online," he said.
"Increasingly, customers research, browse and shop online, regardless of whether they buy online or in-store. Between 30-40 per cent of people undertake their regular shopping based on their past orders, so when you win their attention, you are acquiring a long-term customer rather than just a transaction. Once your product is in their basket, you've won their repeat business in future.
"That is why click prices are getting so aggressive. Brands and agencies are prioritising digital retail media because they increasingly measure the lifetime value of a click rather than just its transaction value. Retailers who fail to recognise this new reality will lose retail media spend market share to those who understand it and exploit to their advantage.
"Australian retailers also face the challenge that global platforms such as Amazon are eating their lunch. In the US, brands look to an Amazon-first strategy, then everyone else next, which delivers both revenues and data to Amazon while retailers just get leftovers. CitrusAd puts the power back in the hands of retailers and brands."
CitrusAd co-founder Nick Paech said the company was experiencing growing demand for both its retail media technology and its IP about how to succeed in this space. "The Publicis acquisition has provided us with the scale, resources and global muscle to accelerate our growth," he said.
"During the first six months of the pandemic, retailers struggled logistically to meet demand. In the past 12-15 months, savvy retailers pivoted brilliantly by bringing forward their online business plans to optimise their online presence. During 2022, we expect more retailers to launch platforms such as CitrusAd to power their retail media presence with new advertising features. They should identify and report to brands the impact that buying online shelf space has on both online and in-store sales of their products, so brands can see the full return on their investment in online marketing.
"Retailers and brands have long known how in-store shelf space placement affects purchasing decisions: 2022 will see them extend this insight to the online brand placement and how it affects not just online purchasing, but also in-store behaviour."
For media assistance to arrange interviews with Brad Moran or Nick Paech, email John Harris at john@impress.com.au.
About CitrusAd
CitrusAd is the world-leading, white-label, self-serve, ecommerce ad-serving platform that enables retailers to monetize their digital shelf-space while enabling brands to increase sales by launching targeted and cost-effective digital campaigns into retailer websites. Since it was launched in 2017, CitrusAd powers the fastest growing ecommerce ad network in the USA and has become the global, retail industry's preferred ad-serving platform, service and retail media sales organization. Successful retailers, in all verticals across 25 countries are leveraging the CitrusAd platform and real-time relevancy engine to create a more personalized shopping experience and deliver greater ROI for suppliers. For more information, visit https://www.citrusad.com.