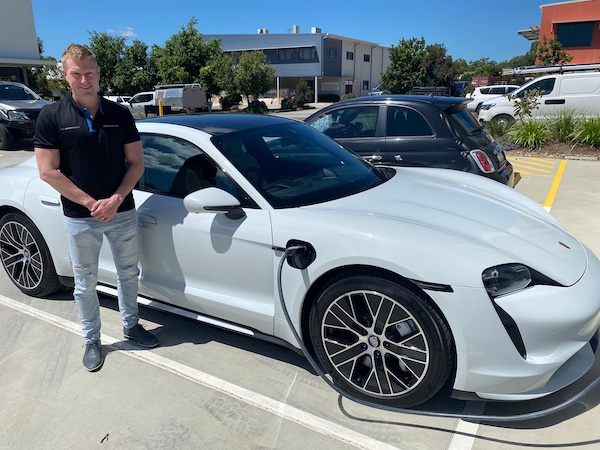 REA Global Director Michael Mrowka with an electric Porsche
Founder of fast-growing Brisbane solar company REA Global Michael Mrowka has called for national solar energy installation standards to defuse the "ticking time-bomb" created by unsafe or poorly designed solar installations.
"The safety issue is very difficult because governments have given out so many rebates for what may be potential fire hazards that this could be another 'pink batts' installation debacle," he said.
"The problem with current solar systems is that when you pull the fuse in the street or you cut power to home, energy flowing from the solar system to the inverter is still live and can't be circuit-protected. That's why REA Solar focusses on the implementation of things like rapid shutdown and other safety requirements that will isolate the system should power to the home be cut."
Founded in 2006 as Renewable Energy Advisors, REA Global has evolved into a diversified renewable energy company with REA Solar installing solar energy generation and storage systems while other divisions design and manufacture solar panels and also assist customers to plan and implement sustainable energy homes and properties. With about 40 employees, the company doubled in size during 2020 and has grown another 50 per cent this year.
REA Global Director Mr Mrowka said the current solar installation standards were out of date and unsafe. "One example is the AS/NZS 5033 standard that mandates rooftop solar isolators, which have become the largest single cause of solar fires in recent years," he said.
"Combine that with low-cost Chinese products that can be quite dangerous as they age, especially when poorly installed, and you have a 'ticking time-bomb' that can cause electrical shorts and fires.
"America and Europe are heavily pushing rapid shutdown, so it's something that has to happen here to avoid the situation in the US where some first responders won't attend a property with solar on the roof until after dark. They understand the risks and they're not putting themselves at risk - to the detriment of the homeowner whose house is burning down.
"If we could change one thing to improve this situation, it would be to mandate rapid shutdown and panel-level monitoring and communication. That's why we install our solar panels with Enphase microinverters, which let us circuit-protect the system because it runs 240 volts alternating current from the panels, so the homeowner can shut them down, just as with lights and power in the home.
"Enphase leads the world in module-level power electronics, so they give us the ability to have the smartest, safest solar system in the market. The beauty of Enphase is it is the most reliable microinverter in the world and, obviously, it gives us the ability to produce more power out of a smaller space with our modules. We can do that safely and comply with current and future regulations."
From Queensland, REA Global has expanded into NSW and Victoria, servicing residential and commercial customers, and is also undertaking a pioneering solar bus project with TransDev and Enphase. "In the next two years, we will roll out about 20 solar-powered buses," he said.
"At the moment, we have an average cost to run the bus of $1.20 a day as opposed to around $30 a day for diesel. That's based on a standard cost per kilowatt-hour for the electricity, but because it's powered by the sun, it's free. Good energy density with lithium batteries means their range is comparable with a diesel bus, about 500-600 km. Buses typically cover about 300 km each day."
REA Global has also partnered with Porsche to bring the first electric-powered Porsche race car to Australia. "It can do a quarter mile in 10 seconds," said Michael.
"We plan to do some promotional events and racing to raise general awareness that the future of motorsport will be green and electric."
For media assistance, contact Enphase Marketing Manager, APAC Justin Cohen on +61 438 630 163 or jcohen@enphaseenergy.com
About Enphase Energy Inc.
Enphase Energy, a global energy technology company, delivers smart, easy-to-use solutions that manage solar generation, storage and communication on one intelligent platform. The Company revolutionized the solar industry with its microinverter technology and produces a fully integrated solar-plus-storage solution. Enphase has shipped more than 32 million microinverters, and approximately 1.4 million Enphase-based systems have been deployed in more than 130 countries. For more information, visit www.enphase.com/au and follow the Company on Facebook, LinkedIn, and Twitter. Enphase Energy, Enphase, the E logo, IQ 7+, Envoy, Enlighten, and other trademarks or service names are the trademarks of Enphase Energy, Inc. Other names are for informational purposes and may be trademarks of their respective owners.
About REA Global and REA Solar https://www.reasolar.com.au
Since 2006, REA Global's solar division, REA Solar, has offered turnkey solar energy solutions to help its customers reduce their energy bills and dependency on the electricity grid. REA Global incorporated the lessons and insights gained in the field to develop the REA Power Series Modules, which employ Enphase IQ 7A microinverters to deliver peak yields with superior efficiency, reliability, and safety. The innovative solar module solution is trusted by thousands of homeowners and businesses alike, including notable Australian brands such as Beaumont Tiles, Anytime Fitness, Little Scholars Early Learning Centres, A1 Interiors, Pro Plaster Services, and Innovative Steel.